The Effect of Digital Native Electronic Word-Of-Mouth (e-WOM) on Destination Awareness Tourism Village in West Java
Keywords:
digital natives, electronic word-of-mouth, destination awareness, tourism village
Abstract
Tourism is a universal industry because every modern human considers that vacation is a need that must be fulfilled. In the digital era, there is a generation born and raised in technological developments called digital natives; this generation is considered a vital role holder in the tourism industry because, in the next few years, the digital native era will enter a productive age and do many things while on vacation. In their daily life, digital natives cannot be separated from social media and smartphones. This is a motivation to be able to develop a tourist village through the role of digital natives. This study has several objectives to achieve, namely to find out electronic word-of-mouth (e-WOM) on Instagram carried out by digital natives to determine destination awareness of tourist villages in West Java, as well as to examine the influence between e-WOM and destination awareness. This study uses quantitative methods through a descriptive verification approach with bivariate correlation analysis and simple linear regression. This study found the effect of electronic word-of-mouth on Instagram on destination awareness of West Java tourist villages, which was positive and significant, with a coefficient of determination of 22.3% and 77.7% influenced by other factors.
References
Adinugraha, H. H., Sartika, M., & Kadarningsih, A. (2018). Desa Wisata Halal: Konsep Dan Implementasinya Di Indonesia. Jurnal Human Falah, 5(1), 28–48.
Amilia, W., Rokhani, R., Prasetya, R. C., & Suryadharma, B. (2020). Pembangunan Desa Wisata Gadingan dan Kebutuhan Pengembangan Sumber Daya Manusia Dalam Pendekatan Community Based Tourism. JPPM (Jurnal Pengabdian Dan Pemberdayaan Masyarakat), 4(1), 93. https://doi.org/10.30595/jppm.v0i0.4268
Cheung, C. M. K., & Lee, M. K. O. (2012). What drives consumers to spread electronic word of mouth in online consumer-opinion platforms. Decision Support Systems, 53(1), 218–225. https://doi.org/10.1016/j.dss.2012.01.015
Gasa, F. M., & Mona, E. N. F. (2020). Literasi Media Sebagai Kunci Sukses Generasi Digital Natives Di Era Disrupsi Digital. Jurnal Pustaka Komunikasi, 3(1), 74–87. http://journal.moestopo.ac.id/index.php/pustakom
Harjanto, J. (2017). PENGARUH DESTINATION AWARENESS, DESTINATION IMAGE, MOTIVASI, DAN WORD OF MOUTH TERHADAP KUNJUNGAN WISATA DI BATU SECRET ZOO.
Hasil Sensus Penduduk 2020. (2020). 21 Januari 2021. https://demakkab.bps.go.id/news/2021/01/21/67/hasil-sensus-penduduk-2020.html
Hennig-Thurau, T., Gwinner, K. P., Walsh, G., & Gremler, D. D. (2004). Electronic word-of-mouth via consumer-opinion platforms: What motivates consumers to articulate themselves on the Internet? Journal of Interactive Marketing, 18(1), 38–52. https://doi.org/10.1002/dir.10073
Irhandayaningsih, A. (2019). Strategi Pengembangan Desa Gemawang Sebagai Desa Wisata Eko Budaya. 3(3), 283–290.
Istiana, P. (2016). Kreativitas Pustakawan Pada Era Digital Dalam Menyediakan Sumber Informasi Bagi Generasi Digital Native. In A. D. S. Putri, A. F. Sadeli, A. Z. Muliana, A. N. Sardi, & A. Rufaidah (Eds.), Kreativitas Pustakawan Pada Era Digital Dalam Menyediakan Sumber Informasi Bagi Generasi Digital Native. Unpad Press.
Jalilvand, M. R., & Samiei, N. (2012). The impact of electronic word of mouth on a tourism destination choice: Testing the theory of planned behavior (TPB). Internet Research, 22(5), 591–612. https://doi.org/10.1108/10662241211271563
Kementerian Pariwisata dan Ekonomi Kreatif. (2022). 18 Agustus 2021. https://kemenparekraf.go.id/ragam-pariwisata/Tren-Pariwisata-Indonesia-di-Tengah-Pandemi
Kumalasari, R. D. (2018). Analisis Pengaruh Electronic Word Of Mouth (Ewom) Terhadap Keputusan Wisatawan Berkunjung Di Café Sawah Desa Wisata Pujon Kidul. 2(2).
Pranoto, P., Maharani, L. J., Kholiq, A., & ... (2022). Pengembangan Potensi Desa Wisata di Desa Kedungpane Kecamatan Mijen. Jurnal HUMMANSI …, 5, 50–62.
Prensky, M. (2001). Digital Natives, Digital Immigrants Part 1. On the Horizon, 9(5), 1–6. https://doi.org/10.1108/10748120110424816
Sari, N. P., & Insani, R. (2020). PENGARUH KESADARAN DESTINASI TERHADAP CITRA DESTINASI DAN NIAT BERKUNJUNG PADA TURIS MILENIAL MELALUI MEDIA SOSIAL INSTAGRAM DI YOGYAKARTA. Jurnal Ilmiah Mahasiswa Ekonomi Manajemen, 5(2), 351–367.
Sugiyono. (2013). Metode Penelitian Kuantitatif, Kualitatif dan R & D. Alfabeta.
Sugiyono. (2017). Metode Penelitian Kuantitatif, Kualitatif, dan R&D (Alfabeta, Ed.).
Sukirman. (2017). Peningkatan Atmosfer Belajar Siswa Generasi Digital Native Melalui Pembelajaran Berbasis Game. Seminar Nasional Kedua Pendidikan Berkemajuan Dan Menggembirakan, August 2017, 21–30.
Tunjungsari, H. K., Selamat, F., & Chairy, C. (2019). Pengukuran Destination Awareness Wisatawan Domestik pada Candi Muaro Jambi. Jurnal Komunikasi, 11(2), 233. https://doi.org/10.24912/jk.v11i2.5796
Wahyuni, D. (2019). Pengembangan Desa Wisata Pentingsari, Kabupaten Sleman dalam Perspektif Partisipasi Masyarakat. Aspirasi: Jurnal Masalah-Masalah Sosial, 10(2), 91–106. https://doi.org/10.46807/aspirasi.v10i2.1386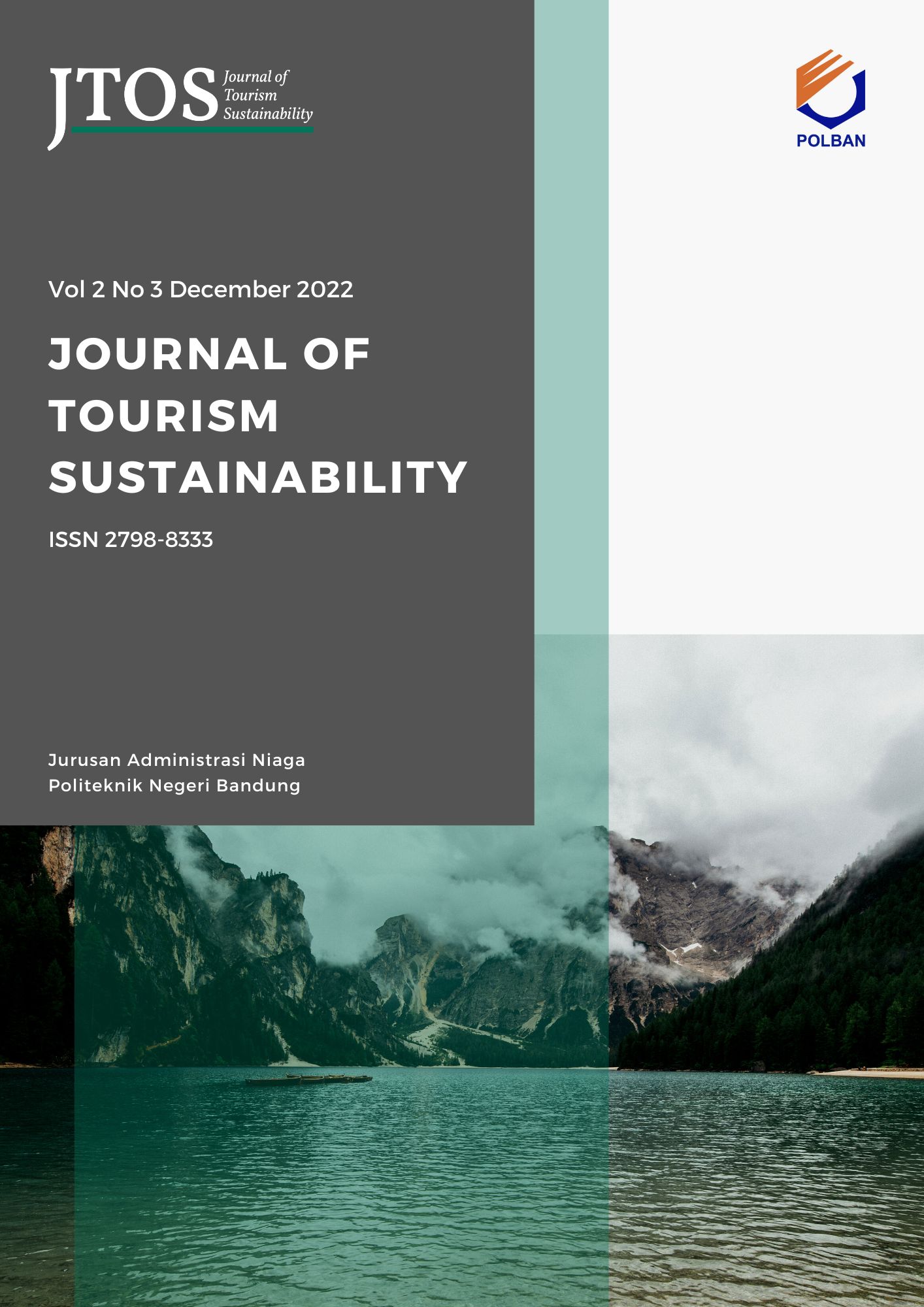 Downloads
License
Copyright (c) 2022 Siti Nur Aini
This work is licensed under a Creative Commons Attribution 4.0 International License.