Does a Memorable Experience Exist During the Covid-19 Pandemic? a Natural Attraction Study
Keywords:
memorable, visitor experiences, natural attraction, refreshment, novelty
Abstract
During Pandemic Covid-19 natural attractions have become one of the favorite place to visit even though there are various restrictions on movement and activities. Most of the visitors try to explore unforgettable visiting experience during their visit. The aim of this research is to understand whether the visitors able to access a memorable experience during the Covid-19 pandemic at natural tourist attractions. This research aplied quantitative methods by using descriptive analysis from online survey of 100 respondents who visited Situ Pattengang as one of natural attraction from May to July 2021. As a result, visitors still able to access several memorable experiences but lacking several others. The highest dimension turns out to be refreshment out of daily activities, then hedonism experience and uniqueness in novelty. Then followed by interaction with local communities. While the third lowest dimension is involvement with activities, meaningfulness, and knowledges.
References
Andrianto, T., Kusumah, A. H. G., Rashid, N. A. M., Buja, A. G., & Arshad, M. A. (2021). Promoting Creative Tourism: Current Issues in Tourism Research. In A. H. G. Kusumah, C. U. Abdullah, D. Turgarini, M. Ruhimat, O. Ridwanudin, & Y. Yuniawati (Eds.), Covid-19, technology and tourism: The future of virtual tour? (1st Edditi, p. 5). Routledge. https://doi.org/10.1201/9781003095484
Anggraeni, R. (2019). Enhancing the Revisit Intention of Nature-Based Tourism in Indonesia: The Role of Memorable Tourism Experience and Satisfaction. Management and Business Research Quarterly, 11, 9–19. https://doi.org/10.32038/mbrq.2019.11.02
BPS. (2021). Kabupaten Bandung Dalam Angka 2021. Bandungkab.Bps.Go.Id.
Ceballos-Lascuráin, H. (1996). Tourism, ecotourism, and protected areas. IUCN. https://doi.org/10.2305/IUCN.CH.1996.7.en
Coudounaris, D. N., & Sthapit, E. (2017). Antecedents of memorable tourism experience related to behavioral intentions. Psychology and Marketing, 34, 1084–1093. https://doi.org/10.1002/mar.21048
Deng, J., King, B., & Bauer, T. (2002). Evaluating natural attractions for tourism. Annals of Tourism Research, 29(2), 422–438. https://doi.org/10.1016/S0160-7383(01)00068-8
Dzulfa Putri Luthfiya, Eko Susanto, & Andrianto, T. (2021). Applying the Technology Acceptance Model to Design Wellness Tourism E-Guidebook. Journal of Tourism Sustainability, 1(2), 82–94. https://doi.org/10.35313/jtos.v1i2.16
Hooper, J. (2015). A destination too far? Modelling destination accessibility and distance decay in tourism. GeoJournal, 80(1), 33–46. https://doi.org/10.1007/s10708-014-9536-z
Hosseini, S., Cortes Macias, R., & Almeida Garcia, F. (2021). Memorable tourism experience research: a systematic review of the literature. Tourism Recreation Research, 1–15. https://doi.org/10.1080/02508281.2021.1922206
Jabarprov.go.id. (2022). Potensi Pariwisata Situ Patenggang.
Jaya, I. (2019). Penerapan Statistik untuk Penelitian Pendidikan. Prenada Media.
Kim, H., Kim, J., Kim, K. T., & Chen, Y.-L. (2019). Memorable Travel Experiences: Qualitative Approach (pp. 101–112). https://doi.org/10.1108/S1745-354220190000015006
Kim, J.-H., Ritchie, J. R. B., & McCormick, B. (2012). Development of a Scale to Measure Memorable Tourism Experiences. Journal of Travel Research, 51(1), 12–25. https://doi.org/10.1177/0047287510385467
Kim, Y., Kim, C., Lee, D. K., Lee, H., & Andrada, R. I. T. (2019). Quantifying nature-based tourism in protected areas in developing countries by using social big data. Tourism Management, 72, 249–256. https://doi.org/10.1016/j.tourman.2018.12.005
Kuusimäki, E. (2018). Memorable experiences of "Living Like a Local" : content analysis of blogs about Helsinki. University of Lapland.
Lebrun, A.-M., Su, C.-J., & Bouchet, P. (2021). A More Sustainable Management of Domestic Tourists in Protected Natural Parks: A New Trend in Sport Tourism after the Covid-19 Pandemic? Sustainability, 13(14), 7750. https://doi.org/10.3390/su13147750
Luca, C. A. (2018). Memorable experiences in rural tourism: Study of Rural areas from Cluj Napoca County, Romania. Dalarna University.
Mahdzar, M. (2019). Tourists' Perception on Memorable Tourism Experience Towards Their Revisit Intentions to Islamic Tourism Destination in Shah Alam, Selangor. Journal of Emerging Economies and Islamic Research, 7(1), 37. https://doi.org/10.24191/jeeir.v7i1.6034
Mateescu, M.-A., Muscalu, M.-S., Baleanu, D., & others. (2020). Trends in Tourist Services in the Context of the Pandemic. Ovidius University Annals, Economic Sciences Series, 20(1), 422–428.
McKercher, B. (2008). The Implicit Effect of Distance on Tourist Behavior: a Comparison of Short and Long Haul Pleasure Tourists to Hong Kong. Journal of Travel & Tourism Marketing, 25(3–4), 367–381. https://doi.org/10.1080/10548400802508473
Prabowo, Y. D. (2021). Perwujudan Paradigma Baru Pariwisata Indonesia Melalui Pengembangan Geopark. Www.Kompasiana.Com.
Ramadhian, N. (2020). Pasca Pandemi Covid-19, Wisata Alam Bakal Jadi Primadona. Travel.Kompas.Com.
Rasjidi, R. (2017). Metodologi Penelitian. Universitas Islam Jakarta.
Schmitt, B. (1997). 'Superficial out of profundity': The branding of customer experiences. Journal of Brand Management, 5(2), 92–98. https://doi.org/10.1057/bm.1997.35
Sthapit, E. (2017). Exploring tourists' memorable food experiences: a study of visitors to Santa's official hometown. Anatolia, 28(3), 404–421. https://doi.org/10.1080/13032917.2017.1328607
Subramaniam, T., Samdin, Z., Ramachandran, S., & Kunasekaran, P. (2019). Memorable ecotourism experiences in Taman Negara, Pahang. International Journal of Recent Technology and Engineering, 7(2), 25–33.
Sugiyono. (2014). Metode Penelitian Pendidikan Pendekatan Kuantitatif, Kualitatif, dan R&D. Alfabeta.
Suhaeni, T., Brien, A., Andrianto, T., & Mannaa, M. T. (2022). Predicting Future Halal Tourist Behavior: Incorporating Holistic Tourist Experience and Virtual Reality Experience. International Journal of Applied Business Research, 16–31.
Suhartanto, D., Gan, C., Andrianto, T., Ismail, T. A. T., & Wibisono, N. (2021). Holistic tourist experience in halal tourism evidence from Indonesian domestic tourists. Tourism Management Perspectives, 40, 100884. https://doi.org/10.1016/j.tmp.2021.100884
Utama, A. Z. (2019). PERAN DIMENSI MEMORABLE TOURISM EXPERIENCE (MTE) DALAM UPAYA MENINGKAYKAN INTENSI BERKUNJUNG KEMBALI KE DESA WISATA SUMBER MARON. Jurnal Ilmiah Mahasiswa FEB, 7(2).
Verinita. (2016). Pengukuran Memorable Tourism Experience Scale (MTES) Dengan Pendekatan Kim Ritchie Mccormick Untuk Meningkatkan Intensi Berkunjung Kembali Ke Desa Wisata Rantih Kota Sawahlunto Provinsi Sumatera Barat. Prosiding Seminar Nasional ASBIS, Politeknik Negeri Banjarmasin, 429–450.
Wolf, I. D., Croft, D. B., & Green, R. J. (2019). Nature Conservation and Nature-Based Tourism: A Paradox? Environments, 6(9), 104. https://doi.org/10.3390/environments6090104
WTTC. (2021). Economic Impact Reports.
Yeh, T.-M., Chen, S.-H., & Chen, T.-F. (2019). The Relationships among Experiential Marketing, Service Innovation, and Customer Satisfaction—A Case Study of Tourism Factories in Taiwan. Sustainability, 11(4), 1041. https://doi.org/10.3390/su11041041
Yu, C.-P., Chang, W.-C., & Ramanpong, J. (2019). Assessing Visitors' Memorable Tourism Experiences (MTEs) in Forest Recreation Destination: A Case Study in Xitou Nature Education Area. Forests, 10(8), 636. https://doi.org/10.3390/f10080636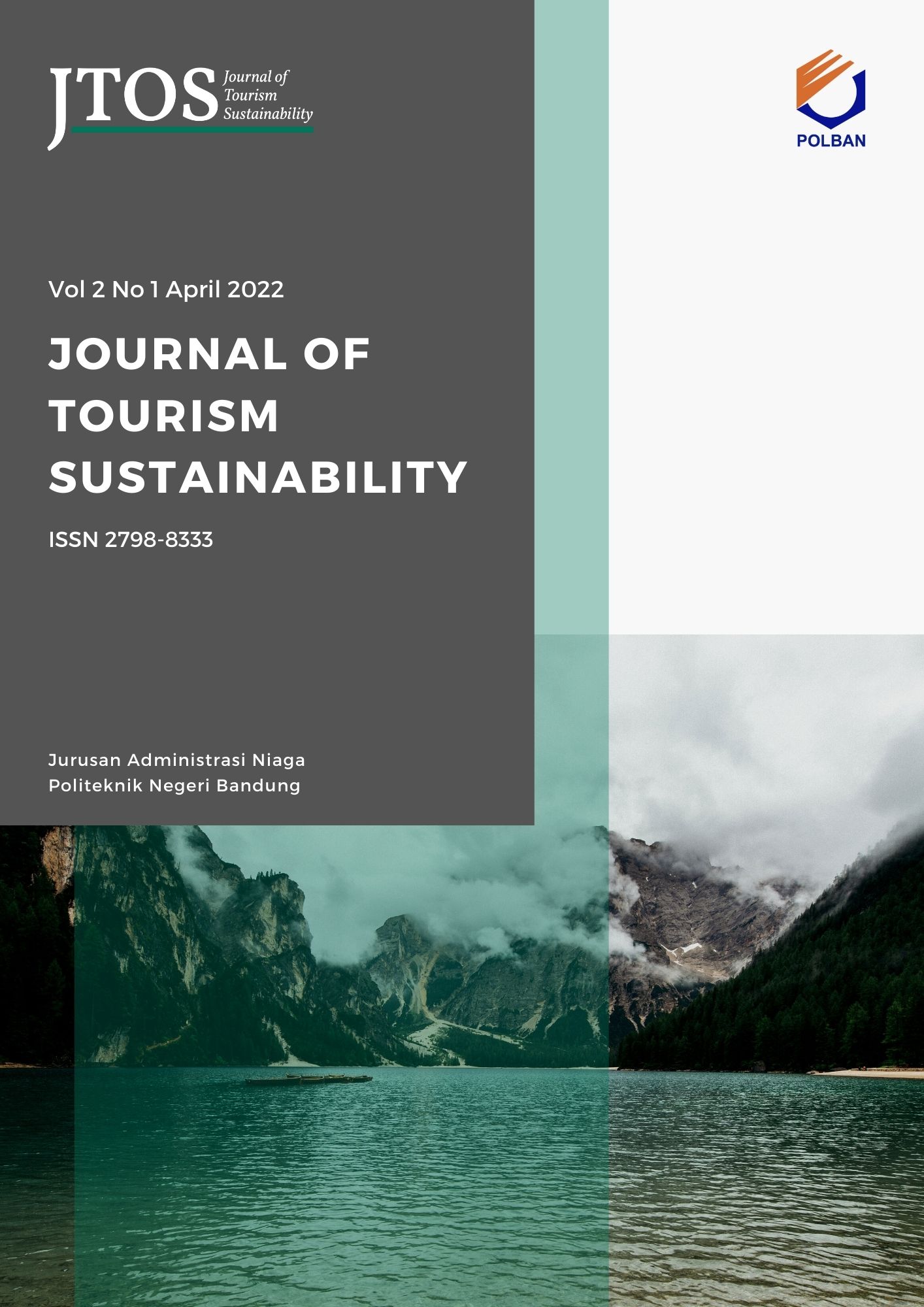 Downloads
License
Copyright (c) 2022 Tomy Andrianto, Chandra Budhi Septyandi, Agustin Hukma Shabiyya
This work is licensed under a Creative Commons Attribution 4.0 International License.