Niche Tourism for Autistic Children during a Pandemic
Keywords:
autism, niche tourism, pandemic, tourism, survival strategy
Abstract
The COVID-19 pandemic has become a global disaster. All industrial sectors throughout the country were paralyzed by the virus that originated in the city of Wuhan, China. One of them is the travel and tourism industry. The policy of restricting mobility and crowds of people to reduce the spread of COVID-19 has a direct impact on the tourism sector. The travel and tourism business declined sharply in the MSME business and disrupted the employment opportunities in it. This also happened to Shakira Travel and Tourism which is engaged in the travel and tourism business. This business that was founded in 2016 must be able to rack its brain so that its business can continue to run during the pandemic. One of the strategies used by Shakira travel and tourism is through niche tourism targeting tourists with autism. This paper contains how the impact of this pandemic on the Indonesian tourism sector and the policies and strategies used by Shakira Travel and Tourism to survive. The purpose of this article is to provide an overview of the implementation of the Niche Tourism strategy for children with autism disorders carried out by Shakira Travel and Tourism in maintaining the continuity of the company. By using qualitative research methods which describe the actual situation that occurred during the research and combined with theoretical references from both journals and articles related to business strategies during the pandemic.
References
Ali-Knight, J. (2015). The Role of Niche Tourism Products in Destination Development. Journal of Hospitality and Tourism Technology, 2(3), 17–20. Retrieved from http://researchrepository.napier.ac.uk/5376/
Goeldner, C. R., & Ritchie, J. R. B. (2003). Tourism: Principles, Practices and Philosophies. John Wiley & Sons. Inc., Hoboken, New Jersey (p. 655). New York: Wiley. Retrieved from https://www.entornoturistico.com/wp-content/uploads/2018/04/Tourism-Principles-Practices-Philosophies.pdf
Gössling, S., Scott, D., & Hall, C. M. (2020). Pandemics, tourism, and global change: a rapid assessment of COVID-19. Journal of Sustainable Tourism, 1–20. https://doi.org/10.1080/09669582.2020.1758708
Hartono, B. (2020). Aspek neurologik autisme infantil. Seminar & Workshop on Fragile-X Mental Retardation, Autism and Related Disorders. Badan Penerbit Universitas Diponegoro. Semarang. https://www.unwto.org/impact-assessment-of-the-covid-19-outbreak-on-international-tourism/December 2020
Jamal, T., & Budke, C. (2020). Tourism in a world with pandemics: local-global responsibility and action. Journal of Tourism Futures, 6(2), 181–188. https://doi.org/10.1108/JTF-02-2020-0014
Robbins. (2007). Perilaku Organisasi: Konsep, Kontroversi dan Aplikasi. Jiilid 1. In Jakarta: Prenhallindo.
Stephen,L. Neo, W., & Flaherty, G. (2019). Autism Spectrum Disorder and Global Travel. International Journal of Travel Medicine and Global Health. 7 (1) 1-3
Novelli, M. (2004). Niche tourism: Contemporary issues, trends and cases. Niche Tourism: Contemporary issues,
trends and cases (pp. 1–264). Elsevier. https://doi.org/10.4324/9780080492926
Situmorang, H. (2020). Pandemi Covid-19, Agen Perjalanan Merugi dan Terancam Gulung Tikar.
Tusianti, E. P. D. R. (2020). Buku Analisis Isu Terkini 2020. BPS RI 2020.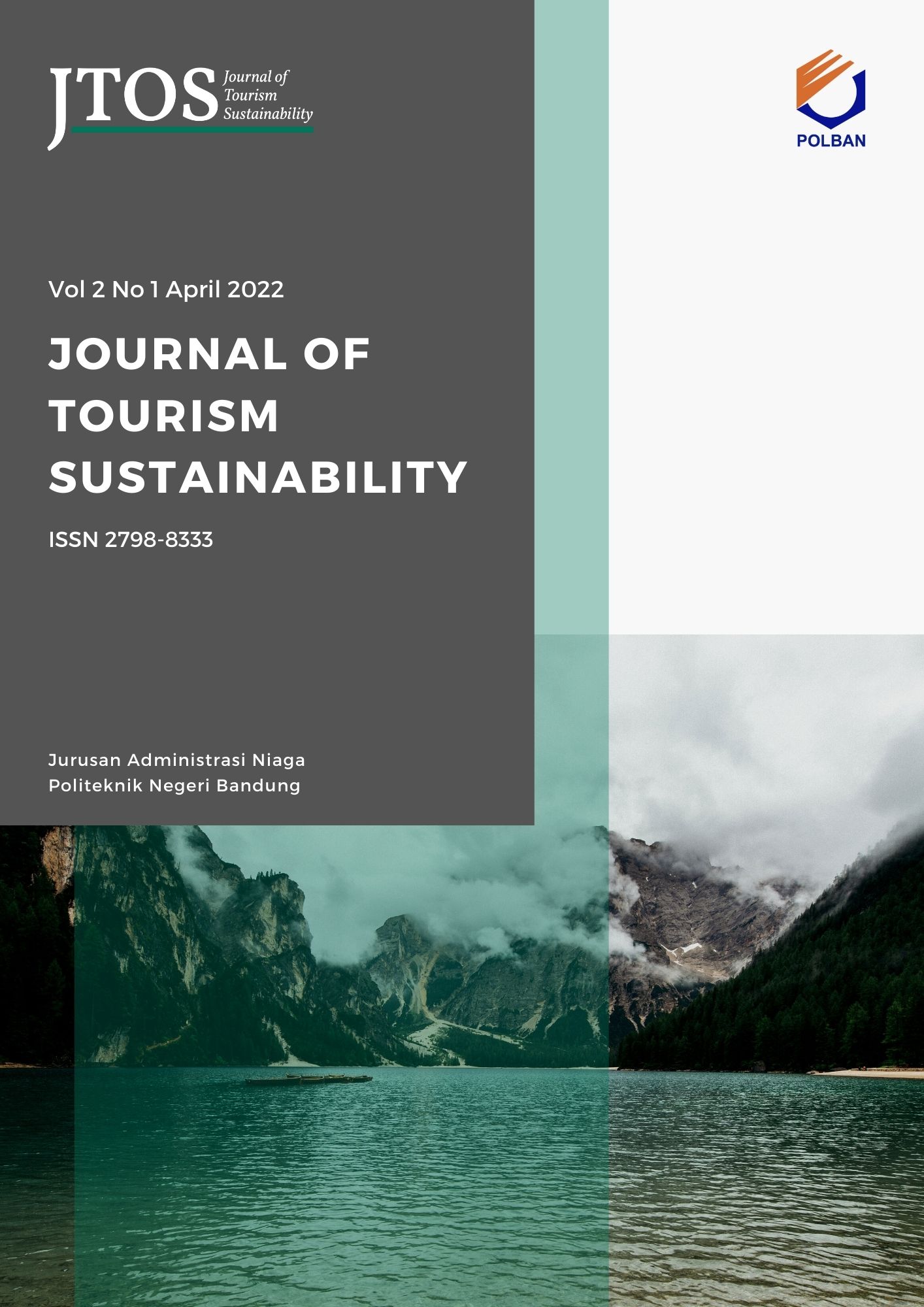 Downloads
License
Copyright (c) 2022 Mochammad Taufik Ramadhan Zain, Fahri Ahmad
This work is licensed under a Creative Commons Attribution 4.0 International License.