Rural Tourism Product Planning "Nepal Van Java", Dusun Butuh, Magelang Regency
Keywords:
planning, tourism product, village tourism
Abstract
Nepal Van Java is a tourism attraction that offers the beauty of local residences in Mount Sumbing slope located in Dusun Butuh, Magelang. According to a simple calculation of average visits up to a thousand visitors in one day, Nepal Van Java has a high visitors number according to a simple estimate of average visits. However, at this time, there are not many rural tourism products offered by Nepal Van Java because this destination is still in the planning stage where there is no planning for rustic tourism products. The purpose of this paper is to describe the planning process related to the village tourism product. Qualitative research methods have applied to this research, resulting in an understanding of the actual condition of village tourism products. Detailed planning related to Nepal Van Java tourism products includes planning on facilities, transportation systems, and introduction of visitors, with the idea of focusing on optimizing agricultural resources as agrotourism, potential aids for farm stays, and culture.
References
Candela, G., & Figini, P. (2010). Destination Unknown: Is there any Economics Beyond Tourism Areas? Review of Economic Analysis, 2(3), 256-271.
Dodds, R., & Butler, R. (2010). Barriers to implementing sustainable tourism policy in mass tourism destination Aall, C. (2014). Sustainable Tourism in Pratice: Promoting or Perverting the Quest for a Sustainable DevelopmentS. Sustainability, 2562-2583.
Ardiwidjaja, R. (n.d.). Wisata Perdesaan Percepatan Pembangunan Nasional Dari Pinggir. Kementrian Pariwisata dan Ekonomi Kreatif, (pp. 1-24). Jakarta.
Asmoro, Yoga, A., Bachri, B. T., & Detmulianti, A. (2020). Analisis Potensi Wisata Desa Dengan Kerangka 6A Studi Ksus Desa Ngajum, Malang. Media Wisata, Vol 18(2), 232-250.
Dávid, , L., Tóth, G., Kelemen, N., & Kincses, Á. (2007). A VIDÉKI TURIZMUS SZEREPE AZ ÉSZAK-MAGYARORSZÁG RÉGIÓBAN, KÜLÖNÖS TEKINTETTEL A VIDÉKFEJLESZTÉSRE A 2007-13 ÉVI AGRÁR- ÉS VI (Martins, 2015)DÉKPOLITIKA TÜKRÉBEN. Gazdálkodás 51. évfolyam 4. szám, , 39-60.
David., L. (2011). Tourism Ecology; towards the responsible, sustainable tourism future.Worldwide
Frochot, I. (2005). A benefit segmentation of tourists in rural areas: a Scottish perspective. Tourism Management, 26, 335-346.
Hong, W.-C. (1998). Rural Tourism: A Case Study of Regional Planning in Taiwan.
Ivan Nugroho, P. D. (2018). The Planning and The Development of the ecotourism and tourism village in Indonesia: A policy review. Journal of Socioeconomics and Development, 43-51.
Kiper, T., & Özdemir, G. (n.d.). Tourism Planning in Rural Areas and Organization Possibilities. Namık Kemal University, Faculty of Agriculture,
Knowd, I. (2001). Rural Tourism Panacea and Paradox. Geography Teachers' Curriculum Workshop hosted by the University of Western Sydney. Sydney: UWS Hawskesbury.
Mahmoudi, B., Haghsetan, A., & Maleki, R. (2011). Investigation of Obstacles and Strategies of Rural Tourism. Journal of Sustainable Development Vol. 4, No. 2, 136-141.
Martins, M. (2018). Tourism Planning and Tourismphobia: An Analysis of the Strategic Tourism Plan of Barcelona 2010-2015. Journal of Tourism, Heritage & Services Marketing, Vol. 4, No. 1, 3-7.
Meleong, L. (2010). Metodologi Penelitian Kualitatif. Bandung: Remaja Rosdakarya.
Tuğba Kiper, G. Ö. (2012). Tourism Planning in Rural Areas and Organization Possibilities. Landscape Planning, 124-150.
UNWTO. (2017). International Rural Tourism Development: An Asia Pacific Perspective. Madrid: Calle Capitan Haya.
Peraturan perundang-undangan
Undang - Undang No. 10 Tahun 2009 Tentang Kepariwisataan.
Undang - Undang No. 25 tahun 2004 Tentang sistem Perencanaan Pembangunan Nasional.
Peraturan Daerah Provinsi Jawa Tengah. Nomor 10 Tahun 2012 Tentang Rencana Induk Pembangunan Kepariwisataan Provinsi Jawa Tengah Tahun 2012 – 2027.
Peraturan Daerah Jawa Tengah Nomor 2 Tahun 2019 Tentang Pemberdayaan Desa Wisata di Provinsi Jawa Tengah
Peraturan Daerah Kabupaten Magelang. No. 4 Tahun 2015 tentang Rencana Induk Pembangunan Kepariwisataan Kabupaten Magelang Tahun 2014-2034.
Peraturan Menteri Desa, Pembangunan Daerah Tertinggal, dan Transmigrasi Republik Indonesia No. 5 Tahun 2016 Tentang Pembangunan Kawasan Perdesaan.
Peraturan Gubernur Jawa Tengah Nomor 36 Tahun 2006 Tentang Pembangunan Kawasan Perdesaan.
Miles, M. B., Huberman, M., & Saldana, J. (2014). Qualitative Data Analysis, A Methods Sourcebook (3rd ed.). USA: Sage Publications.
Scutarri, A., Lucia, M., & Martini, U. (2013). Integrated planning for sustainable tourism and mobility. A tourism traffic analysis in Italy's South Tyrol region. Journal of Sustainable Tourism, 21(4), 614-637. doi:10.1080/09669582.2013.786083
Shafiee, S., Rajabzadeh Ghatari, A., & Hasanzadeh, A. (2019). Developing a model for sustainable smart tourism destinations: A systematic review. Tourism Management Perspectives, 287–300. doi:10.1016/j.tmp.2019.06.002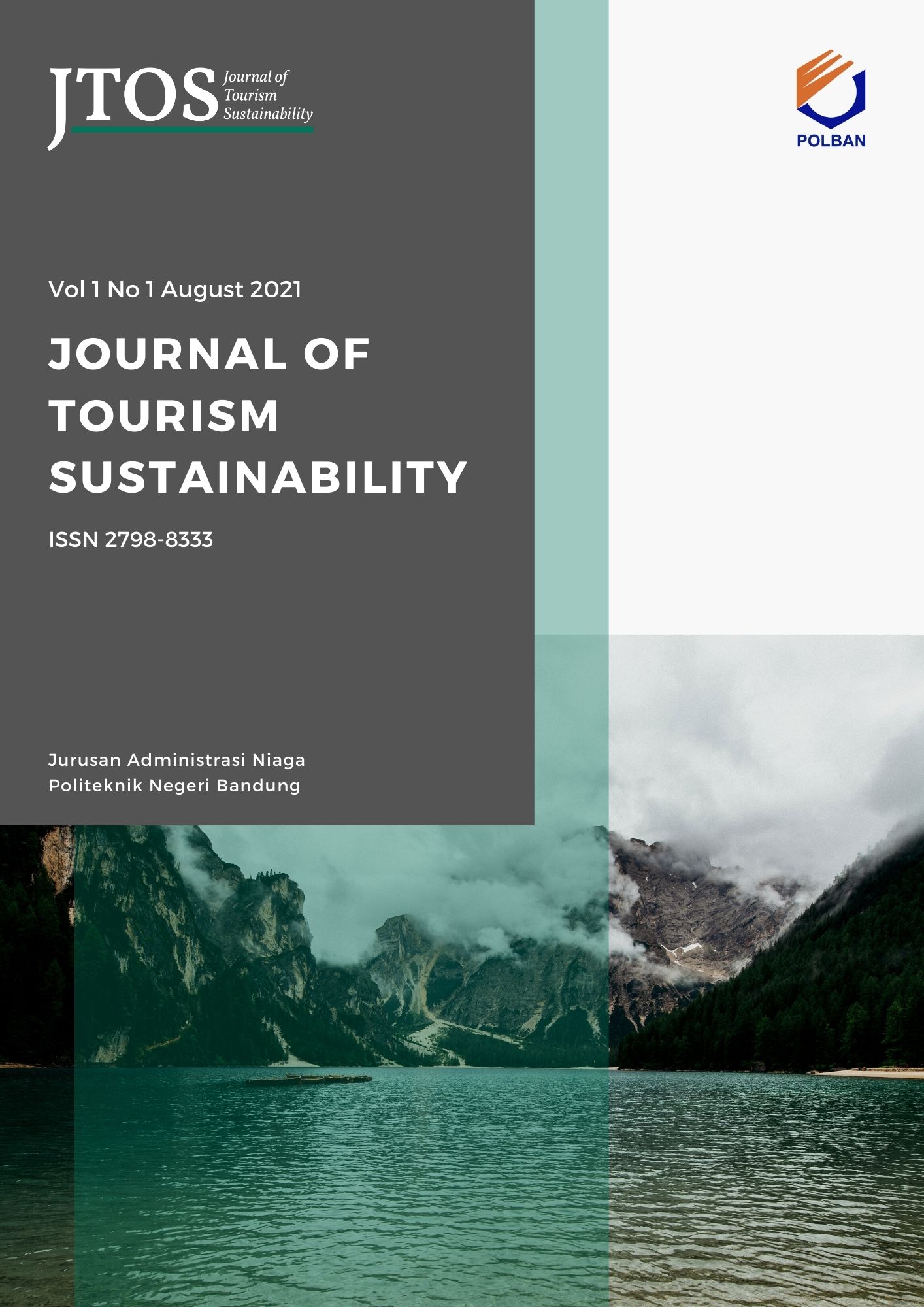 Downloads
License
Copyright (c) 2021 Mega Mega Aldora, Endah Trihayuningtyas, Ikhsan Ardiansyah, Nisa Aulia Nur Setiawan, Agrestasha Nursavira Lim, Rifa Agustina Salsabila, Muhammad Richard Oktaviano
This work is licensed under a Creative Commons Attribution 4.0 International License.