Digital Nomads Interest and Satisfaction in Doing Workcations in Hotel at Greater Bandung Region: The AIDA+S Model Application
Keywords:
Tourist Interest, Digital Nomads, Workcations, AIDA S
Abstract
The pandemic that has hit the whole world has made the tourism industry suffer loses. Consumers are looking for safer tourism activities. Tourism business people are looking for solutions to this by creating a new adaptive tourism trend, which is the Work-Based Vacations (Workcations), an evaluation of the word "Bleisure". A digital nomad who works as a freelancer is intrested in this trend. Using the AIDA+S (Attention, Interest, Desire, Action, Satisfaction) model, this research was conducted to determine the interest and satisfaction of digital nomads in the trend of Workcations in the Bandung Raya area's hotel accomodations. This study uses a descriptive quantitative method with frequency analysis, cross=tabulation, and scoring analysis. Samples were taken using a stratified random sampling technique to 105 respondents. Respondents are digital nomads who worked as a freelancer and had carried out the Workcations trend in a hotel in the Bandung Raya Area during the new normal period and are aged 17 years old and over. The results of the research show that the interest and satisfaction of digital nomads are high on the trend of Workcations as an alternative tourism trend in the new normal period.
References
Alvianna, S. (2017) 'Analisis Pengaruh Harga, Produk, Dan Kualitas Layanan Terhadap Kepuasan Wisatawan Di Taman Wisata Air Wendit Kabupaten Malang', Jurnal Pariwisata Pesona, 2(1). doi: 10.26905/jpp.v2i1.1263.
Anitra, V. and Nurfadillah, M. (2019) 'Analisis minat wisatawan terhadap produk khas Kalimantan Timur [Analysis of tourist interest in typical products of East Kalimantan]', Inovasi, 15(1), pp. 97–104. Available at: http://journal.feb.unmul.ac.id/index.php/INOVASI/article/view/4159/508.
Chakravarty, R. and Sarma, N. N. (2022) 'Evolutionary framework of hierarchy of effects models: exploring relevance in the shifting of customer path', Vilakshan - XIMB Journal of Management, 19(1), pp. 59–68. doi: 10.1108/xjm-09-2020-0151.
Cook, D. (2020) The freedom trap: digital nomads and the use of disciplining practices to manage work/leisure boundaries, Information Technology and Tourism. Springer Berlin Heidelberg. doi: 10.1007/s40558-020-00172-4.
Elliott, C. (2021) Workcations are the new vacations. Here's how to pull one off, The Washington Post. Available at: https://www.washingtonpost.com/lifestyle/travel/workcation-digital-nomad-new-rental-options/2021/07/28/e5786b98-ebec-11eb-97a0-a09d10181e36_story.html.
Herdianingsih, M. and Sukardi (2015) 'ANALISIS FAKTOR PELAYANAN, SARANA PRASARANA, KEUNIKAN OBJEK, DAN KEAMANAN YANG MEMPENGARUHI KETERTARIKAN WISATAWAN PADA PANTAI BARON GUNUNGKIDUL', Jurnal Fokus Volume 5 Nomor 1 Maret 2015, 5, pp. 1–21.
Howard, D. and Barry, T. (2015) 'A review and critique of the hierarchy of effects in advertising', International Journal of Advertising, 9(2), pp. 121–135. Available at: http://dx.doi.org/10.1080/02650487.1990.11107138.
Ikhsanti, D. (2017) Siapa Digital Nomad Dan Bagaimana Caranya Menghasilkan Uang Jarak Jauh? Available at: https://www.aturduit.com/articles/penghasilan-dari-dunia-digital/.
Jaya, I., Damajanti, M. and Cahyadi, J. (2014) 'Perancangan promosi tempat tidur mr coil', pp. 1–10.
Kementerian Pariwisata dan Ekonomi Kreatif (2021) Tren Parwisata Indonesia di Tengah Pandemi. Available at: https://kemenparekraf.go.id/ragam-pariwisata/Tren-Pariwisata-Indonesia-di-Tengah-Pandemi.
Kotler, P. and Armstrong, G. (2014) Principles of Marketing. 15th edn. England: Pearson Education Limited.
Li, J. and Yu, H. (2013) 'An Innovative Marketing Model Based on AIDA: - A Case from E-bank Campus-marketing by China Construction Bank', iBusiness, 05(03), pp. 47–51. doi: 10.4236/ib.2013.53b010.
Lufkin, B. (2022) Workcations : The Travel Trend Mixing Work and Play. Available at: https://www.bbc.com/worklife/article/20220309-workcations-the-travel-trend-mixing-work-and-play.
Ma'rifah, A. N. and Normasyhuri, K. (2022) 'Daya Tarik Halal Tourism Pada Minat Wisatawan di Indonesia Ketika Era Covid-19', Jurnal Ilmiah Ekonomi Islam, 8(1), pp. 328–334.
Mahadi, T. (2021) Terdampak Pandemi, Industri Pariwisata Diproyeksikan Rugi Rp 50 Triliun per bulan. Available at: https://industri.kontan.co.id/news/terdampak-pandemi-industri-pariwisata-diproyeksikan-rugi-rp-50-triliun-per-bulan.
Mouratidis, G. (2018) 'Digital nomads: Travel, remote work and alternative lifestyles', Journal of Applied Psychology, pp. 1–67.
Neupane, R. (2015) 'The Effects of Brand Image on Customer Satisfaction and Loyalty Intention in Retail Super Market Chain UK', International Journal of Social Sciences and Management, 2(1), pp. 9–26. doi: 10.3126/ijssm.v2i1.11814.
Olga, H. (2020) 'In search of a digital nomad: defining the phenomenon', Information Technology and Tourism, 22(3), pp. 335–353. doi: 10.1007/s40558-020-00177-z.
Pecsek, B. (2018) 'Working on holiday: the theory and practice of workcation', Balkans Journal of Emerging Trends in Social Sciences, (Vol 1, No 1), pp. 1–13. doi: 10.31410/balkans.jetss.2018.1.1.1-13.
Pradiatiningtyas, D. (2016) 'Peran Instagram dalam menarik minat wisatawan berkunjung ke objek wisata Yogyakarta', Jurnal Khasanah Ilmu, pp. 5–24.
Subianto, T. (2007) 'Studi Tentang Perilaku Konsumen Beserta Implikasinya Terhadap Keputusan Pembelian', Jurnal Ekonomi Modernsasi, 3, pp. 165–182.
Sugiyono, D. (2017) Metode Penelitian Kuantitatif, Kualitatif, dan Tindakan.
Wawan (2019) Cekungan Bandung Kawasan Strategis Nasional, Dinas Bina Marga dan Penataan Ruang Provinsi Jawa Barat. Available at: http://dbmtr.jabarprov.go.id/cekungan-bandung-kawasan-strategis-nasional/.
Wiranatha, A. S. et al. (2020) 'Digital nomads tourism in bali', Journal of Development Economics and Finance, 1(1), pp. 1–16.
Yuksel, A., Yuksel, F. and Bilim, Y. (2010) 'Destination attachment: Effects on customer satisfaction and cognitive, affective and conative loyalty', Tourism Management, 31(2), pp. 274–284. doi: 10.1016/j.tourman.2009.03.007.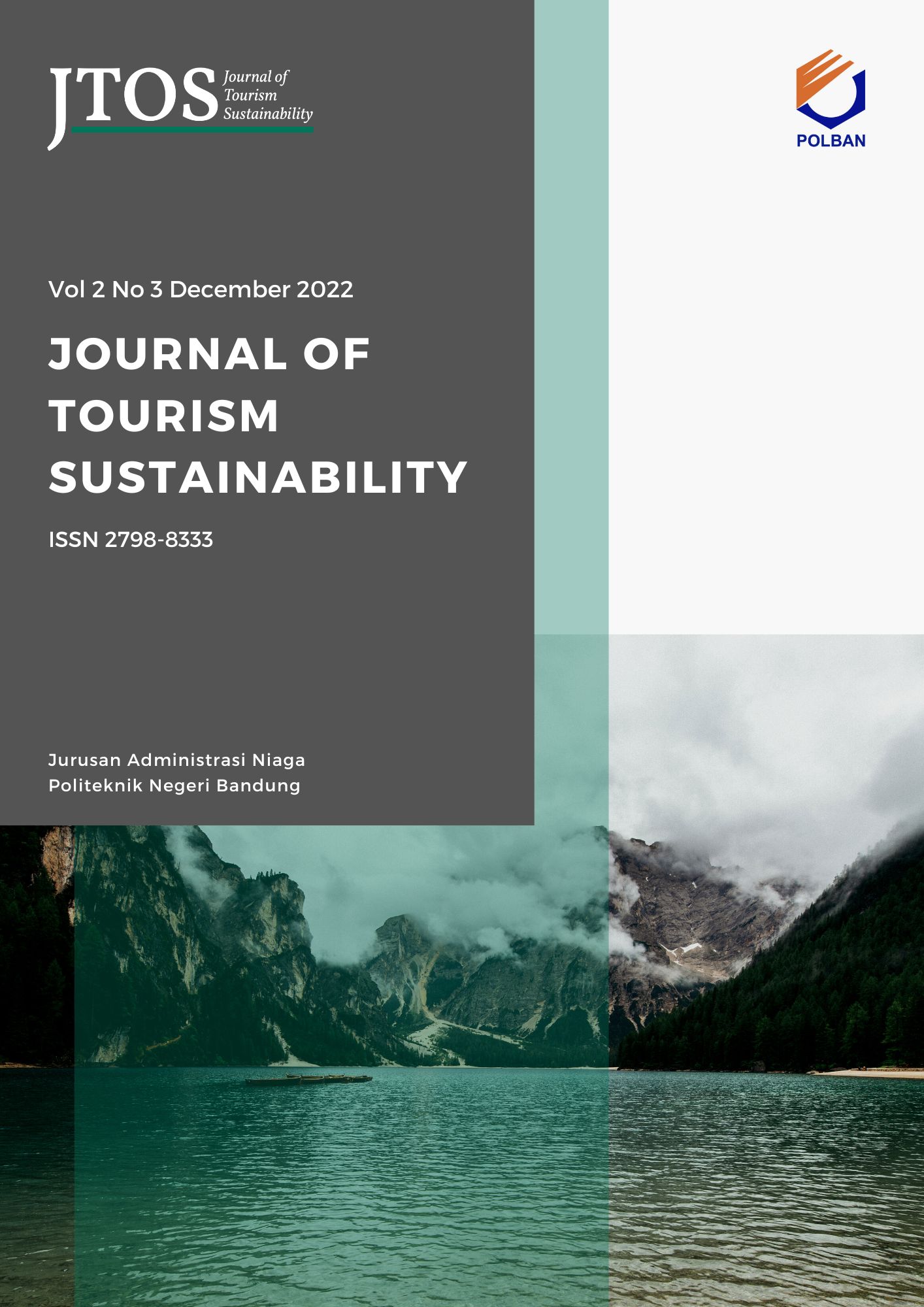 Downloads
License
Copyright (c) 2022 Azizah Salsabila Nugraha, Novi Nuryanti
This work is licensed under a Creative Commons Attribution 4.0 International License.