The Implementation of Interactive Planning To Propose Strategic Solution For Tourism Promotion
Keywords:
Tourism Promotion, Collaboration, Penta Helix, Interactive Planning
Abstract
Information distribution through digital platform helps business owner improve their performance in promotion to broader market without geographical barriers. Unfortunately, the use of digital platforms still does not meets success performance as marketing tools. Information in digital platform has not provided the update and accurate information of destination. Moreover, it effects in rising potential tourist awareness and experience satisfaction. The purpose of this paper is to investigate the promotional problem that effects tourist awareness of tourism destination and recommend the strategic solution to improve performance by concerning tourism stakeholder involvement. This study introduces creative problem solving as an approach to identify probability source of difficulties and recommend strategy solution of problems faced. Interactive Planning (IP) is proposed to investigate the problem and find the strategic recommendation related to destination promotional activities. A comprehensive strategic based study will enhance strength to previous study. Interview and Focus Group Discussion conducted to fill the information needed qualitatively. Wide-ranging roles by diverse backgrounds from five elements Penta Helix (government, academic, media, business, and community) able to strengthen promotion in integrated information manner. The proposed result that might be able to give effect positive in the long term in promotion of tourism sector.
References
Ackoff, R. L. (2001). A Brief Guide to Interactive Planning and Idealized Design. Retrieved from Deakin University: https://deakin.rl.talis.com/items/998C45CB-D9BA-FE90-CD6D-8BBA2483CE81.html
Anderson, E., & McFarlane, J. (2004). Community as Partner Theory and Practice in Nursing (4th ed.). Philadephia.
Baggio, R., Mottironi, C., & Corigliano, M. A. (2011). Technological aspects of public tourism communication in Italy. Journal of Hospitality and Tourism Technology, 105-119.
Beerli, A., & Martin, J. D. (2004). Factors influencing destination image. Annals of tourism research, 31(3), 657-681.
Bieger, T., & Laesser, C. (2004). Information Sources for Travel Decisions: Toward a Source Process Model. Journal of Travel Research, 357-371. doi:DOI: 10.1177/0047287504263030
Carayannis, E. G., Barth, T. D., & Campbell, D. F. (2012). The Quintuple Helix Innovation Model: Global Warming As A Challenge And Driver For Innovation. Journal of Innovation and Entrepreneurship. doi:10.1186/2192-5372-1-2
Carpenter, M. A., & Sanders, W. G. (20019). Stategic Management: A Dynamic Prespective, (2nd ed.). New Jersey: Pearson Printice Hall.
Chacko, H. E. (1997). Positioning a Tourism Destination to Gain a Competitive Edge. Asia Pacific Journal of Tourism Research, 1(2), 69-75.
Chen, C. F., & Tsai, D. (2007). How destination image and evaluative factors affect behavioral intentions? Tourism management, 28(4), 1115-1122.
Chen, J. S., & Uysal, M. (2002). Market Positioning Analysis: A Hybrid Approach. Annals. of Tourism Research, 29(4), 987-1003.
Chon, K. S. (1990). The Role of Destination Image in Tourism: A Review and Discussion. Tourism Review, 45(2), 2-9.
Correia, A. (2002). How Do Tourists Choose? Tourism, 50(1), 21-39.
Dredge, D., & Gymothy, S. (2017). Collaborative Economy and Tourism: Perspectives, Politics, Policies and Prospects. Cham, Switzerland: Springer International Publishing.
Echtner, C. M., & Ritchie, J. R. (1991). The Meaning and Measurement of Destination Image. The Journal of Tourism Studies, 2, 2-12.
Effendi, D., Syukri, F., Subiyanto, A. F., & Utdityasari, R. N. (2016). Smart city Nusantara development through the application of Penta Helix model (A practical study to develop smart city based on local wisdom). International Conference on ICT For Smart Society (ICISS). Surabaya, Indonesia: IEEE. doi:10.1109/ICTSS.2016.7792856
Erislan. (2016). Tourist Attraction and the Uniqueness of Resources on Tourist. Review of Integrative Business and Economics Research, 5(1), 251-266.
Fahmi, F. Z., McCann, P., & Koster, S. (2015). Creative economy policy in developing countries: The case of Indonesia. Urban Studies, 54(6), 1367-1384.
Flood, R. L., & Jackson, M. C. (1991). Creative Problem Solving: Total System Intervention. England: John Wiley & Sons Ltd.
Gallarza, M. G., Saura, I. G., & Gracia, H. C. (2002). Destination Image: Towards a Conceptual Framework. Annals of Tourism Research, 29(1), 56-78.
Gartner, W. (1993). Image formation process. In communication and channel systems in Tourism Marketing Uysal, M. & Fesenmaier, D. eds., 191-215.
Halibas, A. S., Sibayan, R. O., & Maata, R. L. (2017). The Penta Helix Model Of Innovation In Oman: An Hei Perspective. Interdisciplinary Journal of Information, Knowledge & Management, 12, 159-174.
Hardianto, W. T., Sumartono, M. K., & Wijaya, A. F. (2017). Tourism Investment Services In Batu City With Penta Helix Perspective. International Journal of Management and Administrative Sciences (IJMAS), 5(5), 17-22. Retrieved from www.ijmas.org
Herawati, A., Purwaningsih, A., & Handharko, Y. D. (2018). Promoting Village Tourism through the Development of Information Systems. Review of Integrative Business and Economics Research, 221-236.
Irianto, J. (2017). Kebijakan dan Branding Pariwisata. Prosiding Seminar dan Call For Paper Fakultas Ilmu Sosial dan Ilmu Politik Universitas Muhammadiyah Sidoarjo,, (pp. 1-12). Sidoarjo - Indonesia.
Kolb, B. (2017). Tourism Marketing for Cities and Towns: Using Social Media and Branding to Attract Tourists (2nd ed.). New York: Routledge.
Leiper, N. (Annals of Tourism Research). Tourist Attraction Systems. 1990, 17(3), 367-384.
Lindmark, A., Sturesson, E., & Nilsson-Roos, M. (2009). Difficulties of Collaboration for Innovation - A Study in the Öresund Region. Sweden: Lund University School of Economics and Management.
Llodra-Riera, I., Martínez-Ruiz, M. P., Jiménez-Zarco, A. I., & Izquierdo-Yusta, A. (2015). Assessing the influence of social media on tourists' motivations and image formation of a destination. International Journal of Quality and Service Sciences, 7(4), 458-482. doi:10.1108/IJQSS-03-2014-0022
Muhyi, H. A., Chan, A., Sukoco, I., & Herawaty, T. (2017). The Penta Helix Collaboration Model in Developing Centers of Flagship Industry in Bandung City. Review of Integrative Business & Economics Research, 412-417. Retrieved from http://buscompress.com/journal-home.html
Mwaura, D., Acquaye, D., & Jargal., S. (2013). Marketing implications of the destination image of Mongolia. Worldwide Hospitality and Tourism Themes, 5(1), 80-91.
Niekerk, M. v., & Saayman, M. (2013). The influences of tourism awareness on the travel patterns and career choices of high. Tourism Review, 68(4), 19-33.
Pesonen, J. A. (2014). Information and communications technology and market segmentation in tourism: a review. Tourism Review, 68(2), 14-30.
Putra, T. (2019). A Review On Penta Helix Actors In Village Tourism Development And Management. JBHOST, 5(1), 63-75. doi:10.22334/jbhost.v5i1.150
Rosentraub, M. S., & Joo, M. (2009). Tourism and economic development: which investments produce gains for regions? Tourism Management, 30(5), 759-770.
Sarma, M. K., & Baruah, U. K. (2013). Destination Information Sources: A Spatial Study Across Time and Expenditure. IUP Journal of Marketing Management; Hyderabad, 12(1), 59-69. Retrieved from https://search.proquest.com/docview/1321928936?accountid=31562
Stabler, M. J. (1988). The Image of Destination Regions: Theoretical and Empirical Aspects. In B. Goodal, & G. Ashworth, Marketing in the Tourism Industry: The Promotion of Destination Regions. London: Croom Helm.
Stiff, J., & Mongeau, P. (2003). Persuasive Communication. Guilford Press.
Tonkovic, A. M., Veckie, E., & Veckie, V. W. (2015). Aplications Of Penta Helix Model In Economic Development. Economy of eastern Croatia yesterday, today, tommorow,, 4, 385-393.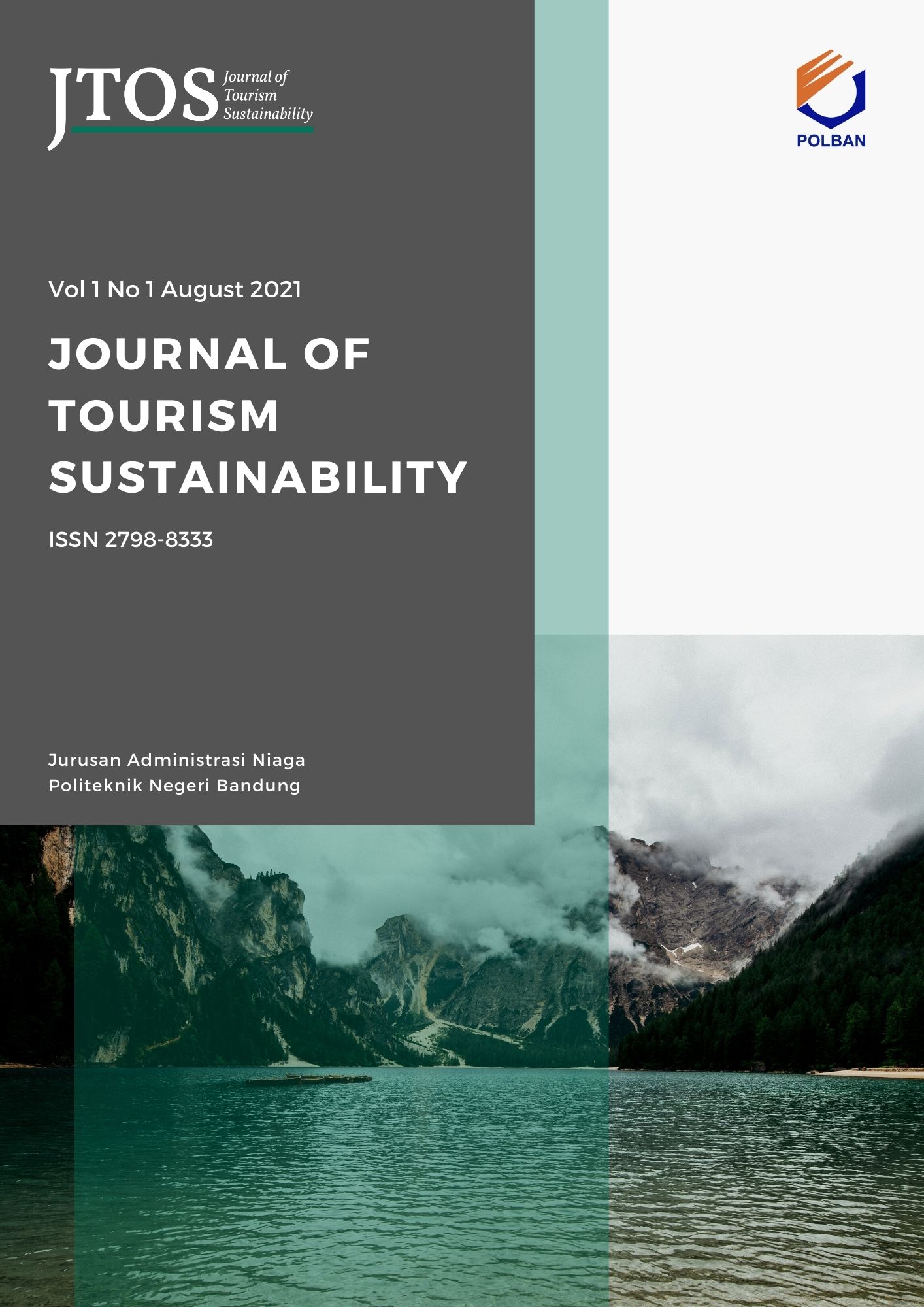 Downloads
License
Copyright (c) 2021 RIKANTINI WIDIYANTI, Narendra Radi Muhammad, Mr
This work is licensed under a Creative Commons Attribution 4.0 International License.