Narrative Crafting in Tourism Destinations: An Autoethnographic Exploration of Storytelling Techniques for Tour Guides
Keywords:
Storytelling, Tour Guides, Visitor Experiences, Narrative Crafting, Autoethnographic
Abstract
This study provides insights into the numerous storytelling techniques tour guides offer to provide visitors with memorable experiences. The study employs an autoethnographic methodology centered on the researchers' extensive background as tourist sector practitioners. The researcher identifies three fundamental tourism storytelling techniques: places, people, and objects. The use of sensory experiences that create a realistic view of a location, strong emotional connections with well-known personalities, the sharing of cultural insights, contrasting and comparing cultures at various locations, highlighting hidden gems, and the use of symbolism or themes to describe a location are all examples of techniques for telling stories about places. Using person-centered storytelling, tour guides can create engrossing narratives by focusing on the character's traits, abilities, and weaknesses, as well as personal tales and journeys. These techniques result in a more authentic and gripping narrative experience. The final approach involves discussing products or physical objects. Guides can narrate the origin and evolution of a product, its cultural significance, future use and potential advancements. This approach provides visitors with a deeper understanding and appreciation of the products unique to the destination. This study contributes to a better understanding of how tour guides can leverage storytelling techniques to enhance visitor experiences and offers practical insights for professional tour guides to improve their narrative delivery.
References
Andrianto, T., & Kusumah, A. H. G. (2021). The Journey of Mapping the Entire Destination Lifecycle. Jurnal Kepariwisataan: Destinasi, Hospitalitas Dan Perjalanan, 5(1), 10–19. https://doi.org/10.34013/jk.v5i1.278
Bessiere, J. & Ahn, Y. (2021). Components of DMZ Storytelling for International Tourists: A Tour Guide Perspective. Sustainability, 13725. https://doi.org/10.3390/su132413725
Chen, H. & Rahman, I. (2018). Cultural tourism: An analysis of engagement, cultural contact, memorable tourism experience and destination loyalty. Tourism Management Perspectives, 153-163. https://doi.org/10.1016/j.tmp.2017.10.006
Çinar, B. & Toksöz, D. (2020). Storytelling in Tour Guiding and Consuming Places. Turist Rehberliği Dergisi (TURED), 1-17. https://doi.org/10.34090/tured.732214
Cohen, E. (1985). The tourist guide: The origins, structure and dynamics of a role. Annals of Tourism Research, 12(1), 5-29.
Cohen, E. (2010). The anthropology of tourism: Theoretical and methodological issues. In J. Jafari & D. Scott (Eds.), Tourism social science series (Vol. 15, pp. 35-50). Emerald Group Publishing Limited.
Green, M. C., & Brock, T. C. (2000). The role of transportation in the persuasiveness of public narratives. Journal of Personality and Social Psychology, 79(5), 701-721. https://doi.org/10.1037/0022-3514.79.5.701
Hinyard, L. J., & Kreuter, M. W. (2007). Using narrative communication as a tool for health behavior change: A conceptual, theoretical, and empirical overview. Health Education & Behavior, 34(5), 777-792. https://doi.org/10.1177/1090198106291963
Kalisa, P. (2019). Local Culture in English for Tour Guide. Proceedings of the UNNES International Conference on English Language Teaching, Literature, and Translation (ELTLT 2018), undefined, undefined. https://doi.org/10.2991/eltlt-18.2019.42
Kang, J. (2018). A study on cultural tourism contents through stories about "Arirang". International Journal of Tourism and Hospitality Research, 81-93. https://doi.org/10.21298/ijthr.2018.07.32.7.81
Kerren, A., Prangova, M. & Paradis, C. (2011). Visualization of Sensory Perception Descriptions. 2011 15th International Conference on Information Visualisation, undefined, undefined. https://doi.org/10.1109/iv.2011.38
Leclerc, D. & Martin, J. (2004). Tour guide communication competence: French, German and American tourists' perceptions. International Journal of Intercultural Relations, 181-200. https://doi.org/10.1016/j.ijintrel.2004.06.006
Min, J. (2011). Tour guides and emotional intelligence. Annals of Tourism Research, 322-325. https://doi.org/10.1016/j.annals.2010.09.005
Minazzi, R. (2020). An exploration of experiential travel behavior during the traveler journey. The Routledge Handbook of Tourism Experience Management and Marketing, undefined, 384-396. https://doi.org/10.4324/9780429203916-33
Moscardo, G. (1996). Mindful visitors: Heritage and tourism. Annals of Tourism Research, 23(2), 376-397.
Moss, G. (2016). The role of storytelling in public relations. Public Relations Review, 42(2), 232-239. https://doi.org/10.1016/j.pubrev.2015.11.011
Mossberg, L. (2008). Extraordinary experiences through storytelling. Scandinavian Journal of Hospitality and Tourism, 8(3), 195-210.
Pan, Y. & Shang, Z. (2023). Linking culture and family travel behaviour from generativity theory perspective: A case of confucian culture and Chinese family travel behaviour. Journal of Hospitality and Tourism Management, 212-220. https://doi.org/10.1016/j.jhtm.2022.12.014
Parsons, H., Houge, M. & Filep, S. (2019). Facilitating self-development: how tour guides broker spiritual tourist experiences. Tourism Recreation Research, 141-152. https://doi.org/10.1080/02508281.2019.1582159
Pond, K. (2013). The professional guide: Dynamics of tour guiding. Routledge.
Rašan, D., Višković, K. & Prevošek, D. (2022). Memorable Sensory Experience in Restaurant: A State-Of-The-Art Review. International Scientific Conference ERAZ - Knowledge Based Sustainable Development, undefined, undefined. https://doi.org/10.31410/eraz.2022.253
Salazar, N. (2005). Tourism and glocalization "Local" Tour Guiding. Annals of Tourism Research, 628-646. https://doi.org/10.1016/j.annals.2004.10.012
Simmons, A. (2009). The story factor: Inspiration, influence, and persuasion through the art of storytelling. Basic Books.
Suhaeni, T., Brien, A., Andrianto, T., & Taha, M. (2022). Predicting Future Halal Tourist Behavior: Incorporating Holistic Tourist Experience and Virtual Reality Experience. 4(1), 16–31. https://doi.org/10.35313/ijabr.v4i1.212
Thorpe, S. (2011). Sense of Place and Emotional Connections Using Collaborative Storytelling in Second Life. International Journal of Information and Education Technology, undefined, 292-297. https://doi.org/10.7763/ijiet.2011.v1.47
Tilden, F. (1977). Interpreting our heritage. University of North Carolina Press.
Tung, V. W. S., & Ritchie, J. R. B. (2011). Exploring the essence of memorable tourism experiences. Annals of Tourism Research, 38(4), 1367-1386.
Turovskaia, S. (2003). Philosophy Is a Reflection on Culture. Russian Studies in Philosophy, 83-86. https://doi.org/10.2753/rsp1061-1967410483
Ülkü, A. & Erol, G. (2022). Destination Storytelling as a Destination Branding Tool. Global Perspectives on Strategic Storytelling in Destination Marketing, undefined, 136-163. https://doi.org/10.4018/978-1-6684-3436-9.ch008
Wall, S. (2008). Easier said, than done: writing an autoethnography. International Journal of Qualitative Methods, 7(1), 38 – 53.
Weiler, B. & Ham, S. (2001). Tour guides and interpretation.. The Encyclopedia of Ecotourism, undefined, 549-563. https://doi.org/10.1079/9780851993683.0549
Yomantas, E. (2021). Respecting, Embracing, and Honoring Cultural Practices through Collective Storytelling. Prompt: A Journal of Academic Writing Assignments, 23-33. https://doi.org/10.31719/pjaw.v5i1.75
Zak, P. J. (2014). Why inspiring stories make us react: The neuroscience of narrative. Cerebrum: The Dana Forum on Brain Science, 2014, 2. Retrieved from https://www.ncbi.nlm.nih.gov/pmc/articles/PMC4445577/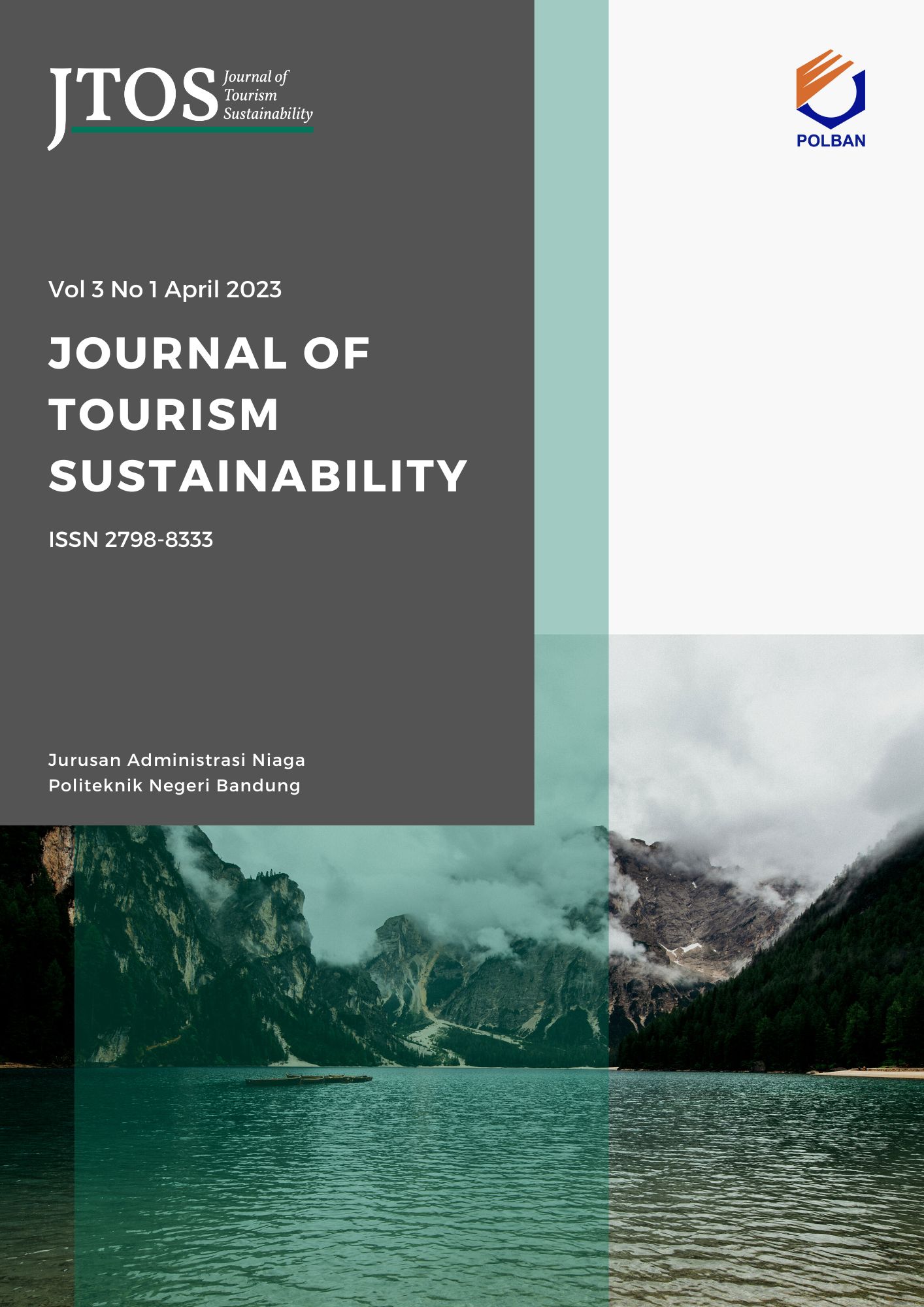 Downloads
License
Copyright (c) 2023 Tomy Andrianto
This work is licensed under a Creative Commons Attribution 4.0 International License.