Improving the Management Capability of the Giyanti Tourism Village in to Raise the Tourism Village Category
Keywords:
Village tourism government, Culture, Lengger dance
Abstract
This study aims to improve the management capability of the Giyanti tourism village in Wonosobo Regency, Central Java. The village has a cultural uniqueness (USP) that is not shared by other villages in Wonosobo Regency in the form of the lengger dance. At present, with the designation of an emerging tourism village, the Giyanti tourism village is still classified as an embryo tourism village. This study used a qualitative descriptive method using data collection techniques through observation, in-depth interviews and literature studies. In improving the qualifications of tourism villages, it can be carried out through four (4) stages, namely 1) tourism village planning, 2) tourism village organization, 3) tourism village development implementation, 4) tourism village evaluation and monitoring. Diversification of Giyanti village products based on culture is needed as well as strengthening the ability of human resources in managing tourist attractions and collaboration with surrounding tourism villages can be strategic steps in increasing the capabilities and the classification of tourism villages.
References
Journal Article:
Amerta, I. M. (2017). The Role Of Tourism Stakeholders At Jasri Tourism Village Development, Karangasem Regency. International Journal Of Social Sciences And Humanities, 1(2), 20-28.
Andriani, D. M dan Sunarta, I N. (2015). Pengelolaan Desa Wisata Belimbing Menuju Pariwisata Berkelanjutan Kecamatan Pupuan Kabupaten Tabanan, Bali. Jurnal Destinasi Pariwisata, 3 (1):17-23.
Arida, I. N. S., Wiguna, P. P. K., Narka, I. W., & Febrianti, N. K. O. (2017). Development Planning of Tourist Village Using Participatory Mapping (Case study: Mambal Village, Badung Regency, Indonesia). IOP Conference Series: Earth and Environmental Science, 98(1), 2–10.
Arismayanti, N. K., Sendra, I. M., Suwena, I. K., Budiarsa, M., Bakta, I. M., & Pitana, I. G. (2019). Tourism Villages' Development in Bali, Mass or Alternative Tourism? Journal of Tourism and Hospitality Management, 7(2), 117–139.
Arismayanti, Ni Ketut and Suwena I Ketut. (2022). Local Community Participation in Management of Tourism Villages: A Case Study of Penglipuran Village in Bali. Journal of Positive School Psychology, 6 (10): 3723-3736.
Atmoko, T. P. H. (2014). Strategi Pengembangan Potensi Desa Wisata Brajan Berbasis Kearifan Lokal. Jurnal Pariwisata Pesona, 3(2), 158–174.
Dewi, Made Heny Urmila. (2013). Pengembangan Desa Wisata Berbasis Partisipasi Masyarakat Lokal di Desa Wisata Jatiluwih Tabanan, Bali. Kawistara, 3 (2): 117-226.
Dominique, N., Callixte, K., and Pacifique, U. (2021). Assessing the Value of Community-Based Tourism Approach in Community Development in the Surrounding area of the Volcanoes National Park in Rwanda. International Journal of Environmental & Agriculture Research (IJOEAR), 7 (8): 49-59.
Farhan, H., & Anwar, K. (2016). The Tourism Development Strategy Based On Rural And Local Wisdom. Journal Of Sustainable Development, 9(3), 170-181.
Gohori, O. and Van der Merwe, P. (2020). Towards a tourism and community-development framework: An African Perspective. Sustainability (Switzerland), 12(13). https://doi.org/10.3390/su12135305.
Gunawan, W., & Yunita, D. (2015). Village Tourism Development With Sharing Grants Model The Solution To Promote Village Sovereignty. Community, 1(1), 46–56.
Goodwin, John Harold; Santili, Rossa ;Community-Based Tourism: a success? Community-Based Tourism: a success?,2009, Research Gate
Hidayat, M. (2011). Strategi Perencanaan Dan Pengembangan Objek Wisata (Studi Kasus Pantai Pangandaran Kabupaten Ciamis Jawa Barat). Tourism And Hospitality Essentials (The) Journal, 1(1), 33-44.
Huang, W.-J., Beeco, J., Hallo, J., & Norman, W. (2016). Bundling Attractions For Rural Tourism Development. Journal Of Sustainable Tourism, 24(10), 1387-1402.
Jensen, M. C., & Meckling, W. H. (1976). Theory of the firm: Managerial behavior, agency costs and ownership structure. Journal of Financial Economics, 3(4), 305–360. https://doi.org/10.1016/0304-405X(76)90026-X
Junaid, Ilham dan Salim, M.A.M. (2019). Peran Organisasi Tata Kelola Dalam Pengelolaan Desa Wisata Nglanggeran, Yogyakarta. Pusaka.
Komariah, N., Saepudin, E., & Rodiah, S. (2018). Development Of Tourist Village Based On Local Wisdom. Journal Of Advanced Research In Management, 9(6), 1172-1177.
Latif, A. N. K. (2018). Analysis of Tourism Villages Development in Indonesia: Case Studies : Three Tourism Villages. ASEAN Journal on Hospitality and Tourism, 16(2), 99– 106.
Lee, T. H., & Jan, F.-H. (2019, February). Lee, T. H., & Jan, F. H. (2019). Can Community-Based Tourism Contribute To Sustainable Development? Evidence From Residents' Perceptions Of The Sustainability. Tourism Management, 70, 368-380.
Paskasari, C.S. (2020). Kapasitas Kelembagaan Pengelola Desa Wisata Brajan Kabupaten Sleman. Jurnal Pariwisata Terapan, 4 (1): 12-24.
Purbasari, N., & Asnawi. (2014). Keberhasilan Community Based Tourism Di Desa Wisata Kembangarum,Pentingsari Dan Nglanggeran. Jurnal Teknik Pwk, 3(3), 476 - 485.
Puspita, Dini ; Sulandari, Susi, Strategi Pengelolaan Desa Wisata Giyanti, Journal Of Public Policy And Management Review,DOI: 10.14710/jppmr.v5i2.10697, Volume 5, Nomor 2, Tahun 2016
Susyanti, D. W. (2013). Village Potentials Through Rural Tourism. Journal of Economics and Business, 12 (1), 33 – 36.
Winarny susyanti, (2013), The potential of the village through rural tourism. Economic and Business Journal, Vol 12, no. 1, June 2013
Zakaria, F., & Suprihardjo, R. D. (2014). Konsep Pengembangan Kawasan Desa Wisata Di Desa Bandungan Kecamatan Pakong Kabupaten Pamekasan. Jurnal Teknik Pomits, 3(2), 245-249.
Book
Clare A. Gunn, 1988. Tourism Planning. Second Edition. Tylor & Francis, New York.
Darmawan, Haryadi; Afriza,Lia; Anti ; 2018 Pengembangan Desa Wisata Di Jawa Barat
Inskeep, Edward.1991. Tourism Planning And Suistainable Development Approach. Van Nostrand Reinblod, New York
Pitana, I Gde. dan Surya Diarta, I Ketut. (2009). Pengantar Ilmu Pariwisata. Yogyakarta: Penerbit Andi.
Republic of Indonesia Law No. 6 of 2014, concerning Villages.
Republic of Indonesian Law No. 10 of 2009, concerning Tourism.
Saldaña, J., 2021. The coding manual for qualitative researchers. sage.
Sugiyono (2011). Metode Penelitian Kuantitatif, Kualitatif, dan Kombinasi (Mixed Methods), Bandung: Penerbit Alfabetha.
Sugiyono. (2014). Metode Penelitian Kuantitatif, Kualitatif dan R&D. Alfabeta, CV: Bandung.
Wardiyanta. (2010). Metode Penelitian Pariwisata. Yogyakarta : Penerbit Andi.
Kementerian Koperasi & UKM, Buku Panduan Desa Wisata Hijau,
Yoeti, Oka A.1997. Perencanaan & Pengembangan Pariwisata. Cetakan pertama. PT Pradya Paramita, Jakarta.
Yoeti, Oka A.1985. Pengantar Ilmu Pariwisata. Angkasa, Bandung.
Internet Source
https://jadesta.kemenparekraf.go.id
Bappenas. (2017). File Penyusunan RKP 2017 Seri Multilateral Meeting PembangunanPariwisata Update 2 Maret 2016. (online). Tersedia: https://www.bappenas.go.id/files/penyusunan_rkp_2017/seri_multilateral_meeting/Pembangunan_Pariwisata_Update_2_Maret_2016.pdf [15 April 2019].
Bungin, Burhan. 2013. Penelitian Kualitatif: Komunikasi, Ekonomi, Kebijakan Publik, dan Ilmu Sosial Lainnya. Jakarta: Kencana Prenada Media Group.
Dosen Pendidikan. (2017). Tradisi Pengertian & (Tujuan-Fungsi-Penyebab Perubahannya) . (online). Tersedia: http://www.dosenpendidikan.com/tradisi-pengertian-tujuan-fungsi-penyebab-perubahannya/ [20 Februari 2018].
Houghton Mifflin Company. (1992). The American Heritage Dictionary of The English Language. Third Ed.. Boston: Houghton Mifflin Company.
Ibrahim. 2015. Metode Penelitian Kualitatif. Bandung: Alfabeta
Jatijajar. (2015). Pengertian Budaya dan Kebudayaan. (online). Tersedia: https://historikultur. blogspot.co.id/2015/02/pengertian-budaya-dan-kebudayaan.html [22 Februari 2019]).
Kamus Besar Bahasa Indonesia. (2016). Tradisi. (online). Tersedia: https;//kbbi.web.id/tradisi [22 Februari 2019]/
Kompas com. (2018). Tidak Mudah Mengembangkan Pariwisata Danau Toba. (online). Tersedia: https://travel.kompas.com/read/2018/10/05/121700927/tidak-mudah-mengembangkan-pariwisata-danau-toba [15 April 2019]
Kontan.co.id. (2017). Badan Otoritas memoles Danau Toba bak Nusa Dua. (online). Tersedia: https://industri.kontan.co.id/news/badan-otoritas-memoles-danau-toba-bak-nusa-dua [15 April 2019].
Little, William, Fowler, H. W., Coulson, J. (1972). The Shorter Oxfor English Dictionary on Historical Principles. Third ed. Revised with addenda. Oxford; The Clarendon Press.
MacDonald, R. & Jolliffe, L. (2003). Cultural rural tourism: evidence from Canada. Annals of Tourism Research, Vol. 30, No.9, pp.307-322
Nazir, Moh. 2014. Metode Penelitian. Bogor. Ghalia Indonesia
Oxford University. (2018). "Gastronomy". Oxford Dictionarie. (online) : Tersedia: https://en.oxforddictionaries.com/definition/gastronomy [20 Februari 2019]
Pelajaran.co. (2017). Pengertian Tradisi Menurut Para Ahli Terlengkap. (online). Tersedia: http://www.pelajaran.co.id/2017/07/16-pengertian-tradisi-menurut-para-ahli-terlengkap.html [20 Februari 2019].
Peter Collin Publishing. (1994). Dictionary of Hotels Tourism and Catering Management. Middlesex: Peter Collin Publishing
Picard, Michel. 2006. Bali Pariwisata Budaya dan Budaya Pariwisata. Jakarta : Kepustakaan Populer Gramedia
Pusat Kajian Seni Kuliner Indonesia, Sekolah Tinggi Pariwisata Bandung. (2016). Profil Kuliner di Destinasi Pariwista Indonesia. Bandung: Pusat Kajian Seni Kuliner Indonesia, Sekolah Tinggi Pariwisata Bandung.
Seputar Pengetahuan. (2017). Pengertian Tradisi Menurut Para Ahli. (online): Tersedia: http://www.spengetahuan.com/2017/10/pengertian-tradisi-menurut-para-ahli.html [22 Februari 2019].
Sormaz, U, Akmese, H., Gunes, E., Aras, S. (2015). "Gastronomy in Tourism." Procedia Economics and Finance 39 2016: 725-730.
Sugiyono. 2012. Memahami Penelitian Kualitatif. Bandung: Alfabeta
Sutopo, H.B., 2006. Metodologi Penelitian Kualitatif: Dasar Teori dan Terapannya Dalam Penelitian. Surakarta: Universitas Sebelas Maret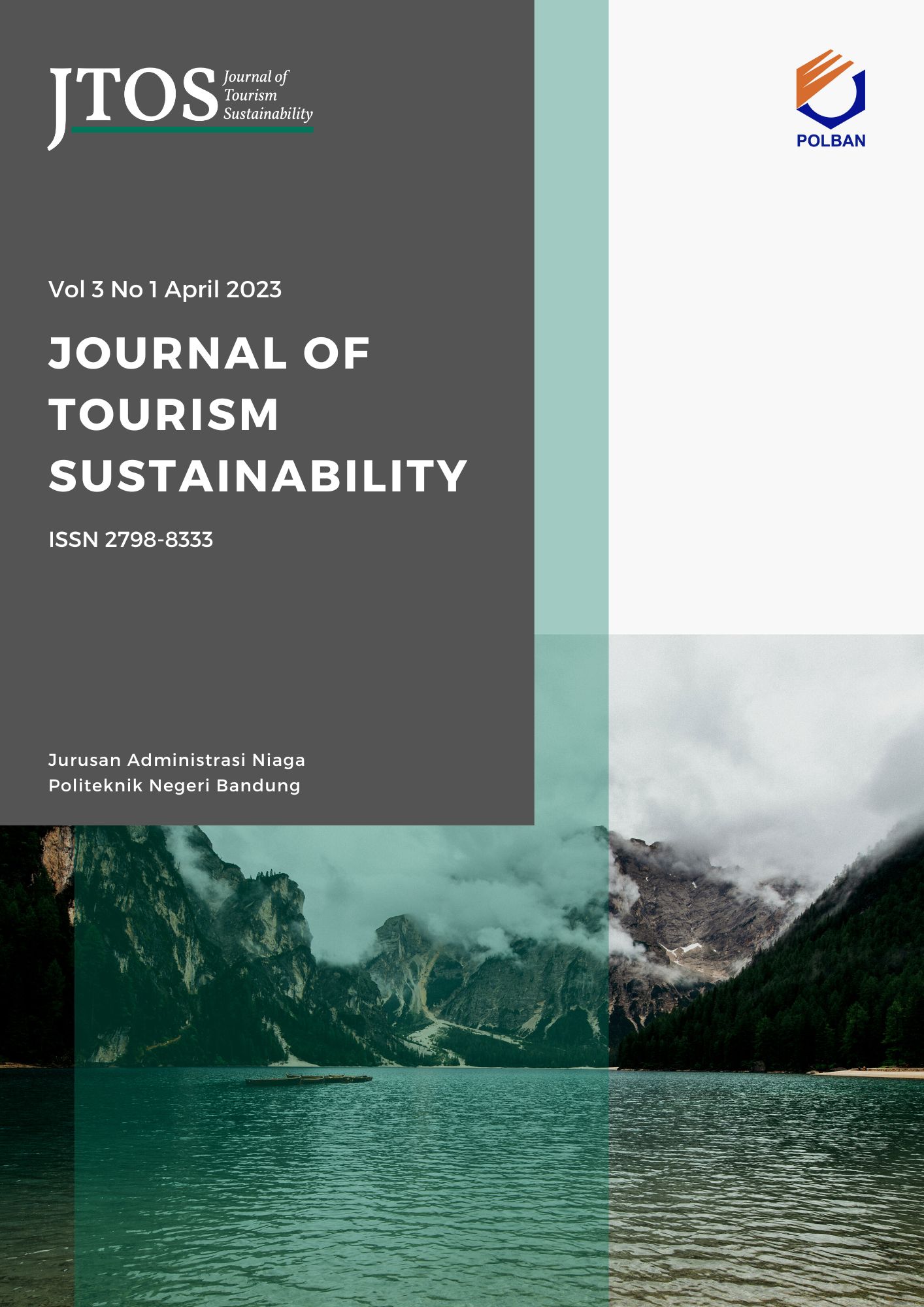 Downloads
License
Copyright (c) 2023 Tatang Sopian, Liga, Iwan, Tyas, Renalmon
This work is licensed under a Creative Commons Attribution 4.0 International License.