Sustainable Tourists Behaviour on Environmental Aspects in Pangandaran Beach
Keywords:
tourist behavior; sustainable tourism; environment.
Abstract
This study aims to determine how the level of tourist behavior in environmental aspects of sustainable tourism activities and is useful for reducing the negative impact of environmental pollution on Pangandaran Beach by adjusting actions that need to be taken in the future. This study uses a descriptive quantitative method through a questionnaire with the contents of the questionnaire consisting of the realm of knowledge (knowledge), the realm of attitude (attitude), and the realm of action or (practice) which have been tested for validation and reliability of 30 respondents. Then the research sources used in this study are primary data and secondary data. Research respondents were 100 tourists who visited Pangandaran Beach from 2020 to 2022. Based on the results of the study, it was found that all sub-variables were in the high category on the continuum line, but this is contrary to the phenomenon that occurred on Pangandaran Beach, there are still many tourists who litter. However, tourists feel that sustainable tourism activities are important to do so as not to have a negative impact on the environment on Pangandaran Beach. The sub-variable that has the highest average score is the knowledge sub-variable so that it can be interpreted that tourists' knowledge about sustainable tourism is higher than attitudes and actions, especially in the action sub-variable which is the sub-variable with the lowest score which can be caused by several factors. factors such as education or age.
References
Bambang, S. (2013). Kebijakan pembangunan destinasi pariwisata: konsep dan aplikasinya di Indonesia. Gava Media. Gava Media.
Bramwell, B., Higham, J., Lane, B., Miller, G., Bramwell, B., Higham, J., Lane, B., & Miller, G. (2017). Twenty-five years of sustainable tourism and the Journal of Sustainable Tourism : looking back and moving forward. 9582(November 2016). https://doi.org/10.1080/09669582.2017.1251689
Hamdi, A. S., & Bahruddin, E. (2015). Metode penelitian kuantitatif aplikasi dalam pendidikan. Deepublish.
Hutchison, E. D. (2018). Dimensions of Human Behavior: Person and Environment. Sage Publications.
Li, T., & Chen, Y. (2018). Do Regulations Always Work ? The Moderate Effects of Reinforcement Sensitivity on Deviant Tourist Behavior Intention. https://doi.org/10.1177/0047287518804679
Nenty, H. J. (2017). Writing a Quantitative Research Thesis Writing a Quantitative Research Thesis. 1122(2009), 19–32. https://doi.org/10.1080/09751122.2009.11889972
Nissa, R. S. I., & Kyuno, H. (2022). Pantai Pangandaran Penuh Sampah Plastik usai Dipadati Turis, Susi Pudjiastuti Kecewa: Tenggelamkan! In Suara.com. https://www.suara.com/lifestyle/2022/05/05/150845/pantai-pangandaran-penuh-sampah-plastik-usai-dipadati-turis-susi-pudjiastuti-kecewa-tenggelamkan
Notoatmodjo, S. (2007). Pendidikan dan Perilaku Kesehatan. Rineka Cipta.
Novianti, E., Larasati, A. R., Asy, R., Pribadi, T. I., Saridi, S., Sapari, M., Hadian, D., Rama, S., Wulung, P., Berkelanjutan, M. P., Pascasarjana, S., & Padjadjaran, U. (2020). PARIWISATA BERBASIS ALAM : MEMAHAMI PERILAKU WISATAWAN Pendidikan Pariwisata , Universitas Pendidikan Indonesia. Jurnal Kepariwisataan Indonesia, 14(1), 46–52.
Open Data Jabar. (2021). Jumlah Wisatawan Berdasarkan Kategori di Jawa Barat.
Sekretariat Negara Republik Indonesia. (2009). UNDANG-UNDANG REPUBLIK INDONESIA NOMOR 10 TAHUN 2009 TENTANG KEPARIWISATAAN. Sekretariat Negara RI.
Tamaratika, F., & Rosyidie, A. (2019). INKORPORASI KEARIFAN LOKAL DALAM PENGEMBANGAN KAWASAN PARIWISATA DI LINGKUNGAN PANTAI. Jurnal Sosioteknologi, 16(1), 125–133. https://doi.org/10.5614/sostek.itbj.2017.16.1.10
Widiawati, W. (2015). KONDISI MASYARAKAT KORBAN BENCANA GERAKAN TANAH SEBELUM DAN SETELAH RELOKASI PEMUKIMAN DI KECAMATAN MALAUSMA KABUPATEN MAJALENGKA. 25–37.
World Tourism Organization (UNWTO), & Spain, U. N. G. C. N. (2016). THE TOURISM SECTOR AND THE SUSTAINABLE DEVELOPMENT GOALS.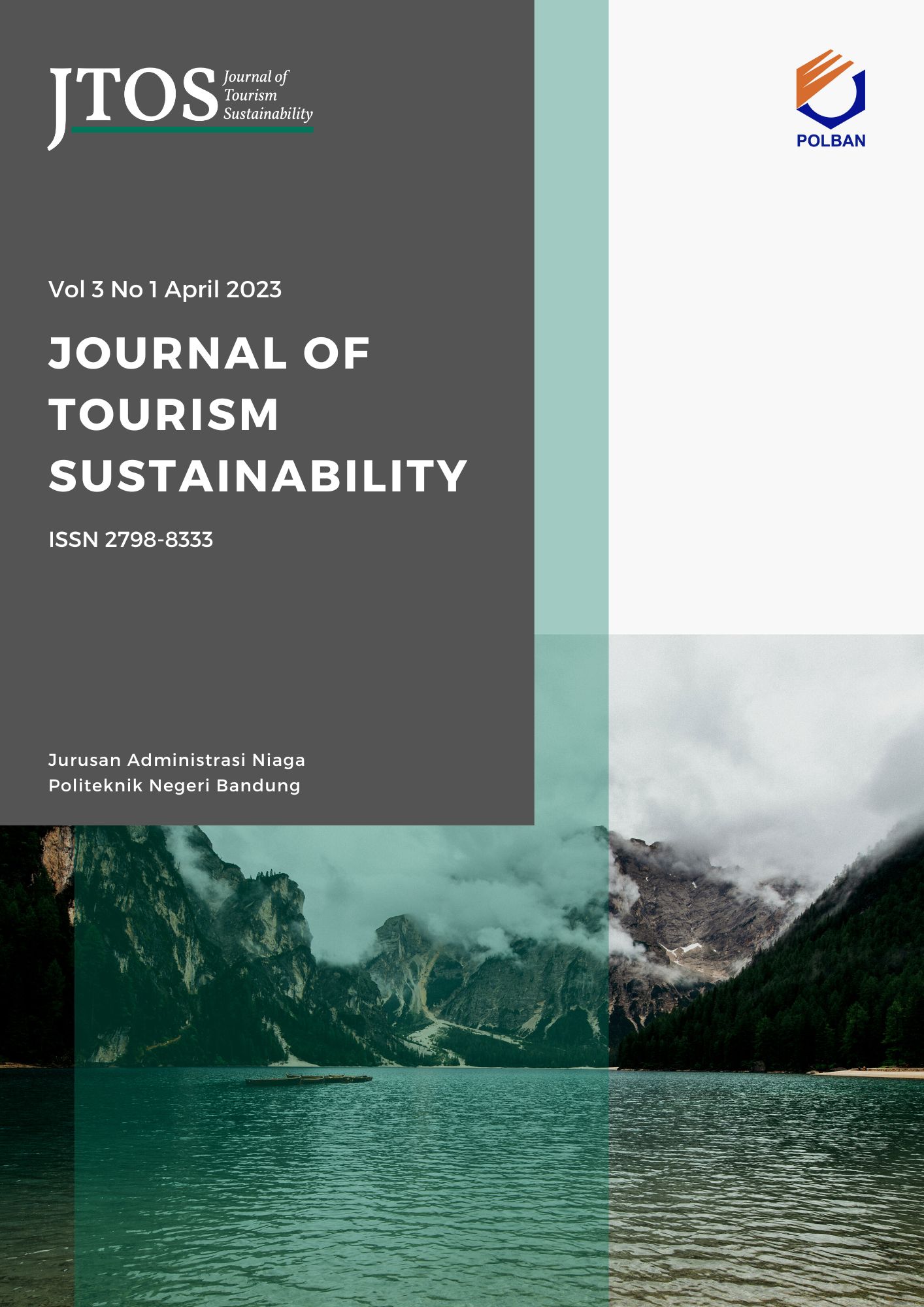 Downloads
License
Copyright (c) 2023 Hilman Khaerul Nizar, Gundur Leo
This work is licensed under a Creative Commons Attribution 4.0 International License.