Feasibility Assessment of Cikole Hamlet Through IRTD Assessment Method as Tourism Village In Neglasari Village, Cisompet District, Garut Regency
Keywords:
Tourism Village, IRTD
Abstract
Integrated Tourism Village Development (IRTD) proposes an intervention strategy for developing Tourism Villages in Cikole Hamlet, Neglasari Village, Garut Regency to generate opportunities for people in rural areas. This approach also aims to earn a sustainable income to complement their current earnings, contribute to equitable territorial development, and shape the environment. Neglasari Village is located in South Garut, designated as a tourism development area—encouraging the tourism industry's rural development. This village has several hamlets, one of which is the Cikole Hamlet, with the main attraction being tea, coffee, ginger, onion, and other plantations. However, the Cikole Hamlet community does not carry out the existing traditions. However, the potential of local culture can still be used as a supporting attraction and a preservation effort. For the sake of the sustainability of the existence of Neglasari Village as a tourist village, it is necessary to identify, assess and prioritize village tourism assets by using a Tourism Village Feasibility Assessment with the IRTD (Integrated Rural Tourism Development) Assessment Method to create sustainable development opportunities, in Cikole Hamlet, Neglasari Village, Garut Regency.
References
Bachtiar, Harsya. (1983). Pengamatan Sebagai Suatu Metode Penelitian. Dalam Koentjaraningrat (Red.). Metode-Metode Penelitian Masyarakat. Jakarta: Gramedia, p108-128.
Creswell, John W. and Miller, Dana L. (2000). Determining Validity in Qualitative Inquiry. Theory into Practice, Vol. 39 (3), pp. 124-130
Damanik, Janianton dan Weber, Helmut F. (2006). Perencanaan Ekowisata. Yogyakarta: Pusbar UGM & Andi Yogyakarta
GIZ, BAPPENAS. (2015). Buku Panduan Pengembangan Desa Wisata Hijau: Kementerian Pariwisata, Kementerian Desa, Pembangunan Daerah dan Transmigrasi, Kementerian Lingkungan Hidup dan Kehutanan, dan Panorama Foundation, Asisten Deputi Urusan Ketenagalistrikan dan Aneka Usaha Kementerian Koperasi dan UKM Republik Indonesia.
Golafshani, Nahid. 2003. Understanding Reliability and Validity in Qualitative Research. The Qualitative Report Volume 8 (4) p 597-607
Guba, Egon G., and Lincoln, Yvonna S. 1982. Epistemological and Methodological Bases of Naturalistic Inquiry. Education Technology Research and Development, Vol. 30 (4), p233-252
Hu, Y., & Ritchie, J. B. (1993). Measuring Destination Attractiveness: A Contextual Approach. Journal of Travel Research, Vol. 32(2), 25-34.
Jati, D.P. Suroso, A. Suwandari, L. (2014). Analisis Kelayakan Desa Kalisari sebagai Desa Wisata : Aspek Sosial Ekonomi, Operasional dan Pemasaran. 3rd Economic & Business Research Festival.
Miles, Matthew B and Huberman, A. Michael. 1983. Drawing Valid Meaning from Qualitative Data: Some Techniques of Data Reduction and Display. Quality and Quantity, 17, p 281-339
Morrison, Alastair M. (2013). Marketing and Managing Tourism Destinations. New York: Routledge 31
Moleong, J. Lexy. 2006. Metodologi Penelitian Kualitatif. Edisi Revisi. Bandung : PT. Remaja Rosdakarya.
Mulyana, Deddy. 2005. Komunikasi Bisnis Lintas Budaya. Bandung: PT Remaja Rosdakarya.
Muhajir, Noeng. 1996. Metodologi Penelitian Kualitatif. Yogyakarta: Rake Sarasin.
Koentjaraningrat. 1983. Metode Wawancara. Dalam Koentjaraningrat (Red.). Metode- Metode Penelitian Masyarakat. Jakarta: Gramedia, p 129-157
Pitana, I Gde dan Gayatri, Ni Putu.G. 2007. Sosiologi Pariwisata. Yogyakarta: PT Andi O.
Poerwadarminta, W.J.S. 1961. Kamus Umum Bahasa Indonesia. Jakarta: Balai Pustaka.
Prawira, M. F. A., Budisetyorini, B., Adisudharma, D., Salam, D. A., Wulandari, W., & Susanto, E. (2021). Development of Asahan River Tourism Activities in Support of National Tourism Strategic Area of Lake Toba. Journal of Tourism Sustainability, 1(2), 59-73.
Rakhmat, Jalaluddin. 2005. Psikologi Komunikasi, Bandung: PT Remaja Rosdakarya.
Ramdan, R.M. Ihkwana, A. (2016). Analisis Kelayakan Pengembangan Wisata di Desa Cimareme Kecamatan Banyuresmi Garut. Jurnal STT-Garut Vol 14. No. 1
Rietbergen-McCracken, Jennifer and Narayan, Deepa. 1998. Participation and Social Assessment: Tools and Techniques. The International Bank for Reconstruction and Development / THE WORLD BANK
Rural Tourism Resources Assessment Methodology. 2017. United Nations Development Program
Rusnanda, R. (2017) Studi Kelayakan Desa Lhokreukam, sebagai Desa Wisata di Kabupaten Aceh Selatan. Seminar Nasional Kearifan Lokal Dalam Keberagaman Untuk Pembangunan Indonesia Universitas Sumatera Utara
Sugiyono. 2011. Metode Penelitiaan Kuantitatif Kualitatif dan R&D. Bandung: CV Alpabeta.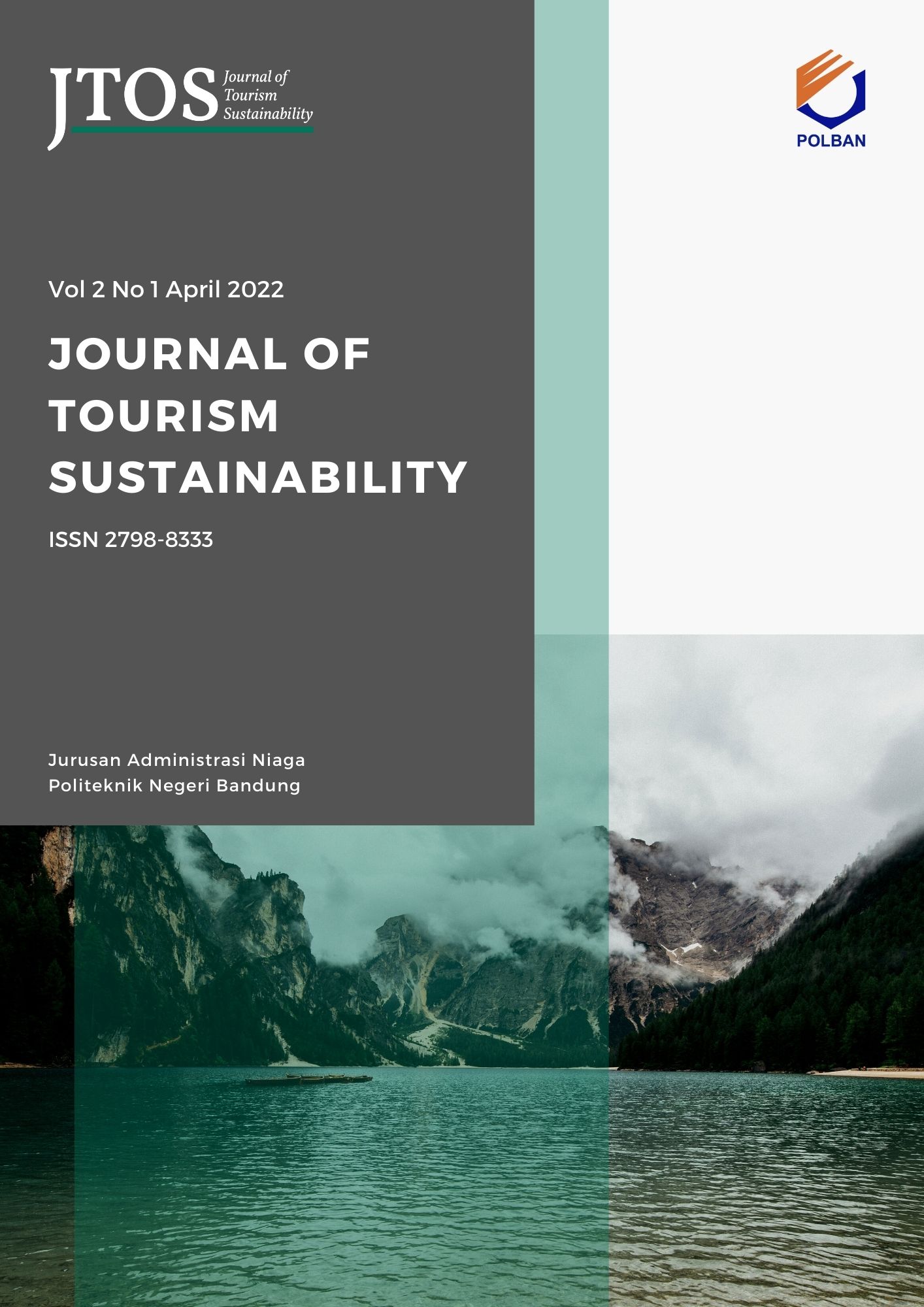 Downloads
License
Copyright (c) 2022 Eka Paramita, Yanthi Adriani, Mega Aldora, Lilis Jayanti
This work is licensed under a Creative Commons Attribution 4.0 International License.