The Effect of Tourism Attraction and Destination Image on Tourist Motivation Bandung During COVID-19 Recovery
Keywords:
Keywords: Tourist Attraction, Destination Image, Tourist Motivation, Bandung City
Abstract
For years Bandung could attract some tourists to visit. However, Covid-19 has crushed the tourism sector in the world, including Bandung City. Covid-19 changes behavior and visit intention to destination. According to a new situation, this research examines tourism motivation in visiting Bandung City through the influence of tourist attraction and destination image. This research was conducted in quantitative analysis, which collected data by distributing questionnaires to 114 respondents from random sampling. The sampling technique used was quota sampling where the number of the population was unknown and also the sample selection was not chosen at random but there were defined characteristics, namely that they were domestic tourists who had traveled to Bandung City. The analysis of this research uses Multiple Linear Regression. The results of this study can see tourist attractions that can attract foreign tourists, know the image of destinations from the city of Bandung, and prove that the variables of tourist attraction and image of destinations do not really affect the motivation of tourists who come to the city of Bandung.
References
Ahyar, H. dkk. (2020). Buku Metode Penelitian Kualitatif & Kuantitatif.Yogyakarta:CV. Pustaka Ilmu. (Issue March).
Çoban, S. (2012). The effects of the image of destination on tourist satisfaction and loyalty: The case of Cappadocia. European Journal of Social Sciences, 29(2), 222–232.
Cooper, C., & Hall, C. M. (2007). Contemporary Tourism: An International Approach.
Ćorluka, G., Vitezić, V., & Peronja, I. (2021). The temporal dimension of tourist attraction. Tourism, 69(3), 443–453. https://doi.org/10.37741/T.69.3.9
data jumlah kunjungan wisatawan-domestik dan mancanegara. (2022).
Echtner C.M and J.R.Ritchie. (1991). The Meaning and Measurement of Destination Image. Journal of Tourism Studies, 2(2), 2–12.
Gayatri, P. D., & Pitana, I. G. (2005). Sosiologi Pariwisata.
Hanif, A., & Mawardi, A. K. M. K. (2016a). DAMPAKNYA TERHADAP LOYALITAS WISATAWAN ( Studi pada Wisatawan Nusantara yang Berkunjung ke Kota Batu ). Jurnal Administrasi Bisnis (JAB), 38(1), 44–52.
Hanif, A., & Mawardi, A. K. M. K. (2016b). PENGARUH CITRA DESTINASI TERHADAP KEPUASAN WISATAWAN SERTA DAMPAKNYA TERHADAP LOYALITAS WISATAWAN. Jurnal Administrasi Bisnis (JAB), 38(1), 44–52.
Indira, D., Usman Ismanto, S., & Budiarti Santoso, M. (2013). Pencitraan Bandung Sebagai Daerah Tujuan Wisata: Model Menemukenali Ikon Bandung Masa Kini. Sosiohumaniora, 15(1), 45. https://doi.org/10.24198/sosiohumaniora.v15i1.5238
Kartika, T. . S. I. (2017). Pengaruh daya tarik wisata pantai gandoriah terhadap motivasi kunjungan wisatawan di kota pariaman. Jurnal Sains Terapan Pariwisata, 2(2), 287–299.
Keliwar, S., & Nurcahyo, A. (2015). Motivasi dan Persepsi Pengunjung terhadap Obyek Wisata Desa Budaya Pampang di Samarinda. Jurnal Manajemen Resort dan Leisure,.
Keliwar, S., & Nurcahyo, A. (2015). Jurnal Manajemen Resort dan Leisure Vol. 12, No. 2, Oktober 2015 MOTIVASI DAN PERSEPSI PENGUNJUNG TERHADAP OBYEK WISATA DESA BUDAYA PAMPANG DI SAMARINDA. Jurnal Manajemen Resort, 12(2), 10–27.
Lew, A. A. (1987). A framework of tourist attraction research. Annals of Tourism Research, 14(4), 553–575. https://doi.org/10.1016/0160-7383(87)90071-5
Muhson, A. (2006). Teknik Analisis Kuantitatif 1 TEKNIK ANALISIS KUANTITATIF.
Prasetio, A. (2012). Management Analysis Journal Pengaruh Kualitas Pelayanan dan harga terhadap Kepuasan Pelanggan. Management Analysis Journal, 1(4), 1–8. http://journal.unnes.ac.id/sju/index.php/maj
Saputra, E., & Zulmaulida, R. (2019). Kajian Literatur Efektifitas Pemasaran Produk Dengan Menggunakan Sistim Online Marketing di Era Disruption. JESI (Jurnal Ekonomi Syariah Indonesia), 8(2). https://doi.org/10.21927/jesi.2018.8(2).120-128
Setyaningsih, S., & Murwatiningsih. (2017). Pengaruh Motivasi, Promosi Dan Citra Destinasi Pada Kepuasan Pengunjung Melalui Keputusan Pengunjung. Management Analysis Journal, 6(2), 123–133. http://maj.unnes.ac.id
Sugiyono, D. (2013). Metode Penelitian Kuantitatif, Kualitatif, dan Tindakan.
Syarifuddin, D., M. Noor, C., & Rohendi, A. (2017). Memaknai Kuliner Lokal Sebagai Daya Tarik Wisaya. Abdimas, 1(1), 4–8. http://ejournal.bsi.ac.id/ejurnal/index.php/abdimas
Undang-Undang Kepariwisataan. (2009). UNDANG-UNDANG REPUBLIK INDONESIA NOMOR 10 TAHUN 2009 TENTANG KEPARIWISATAAN. https://doi.org/10.1038/132817a0
Utama, I. G. B. R., & Rai, G. B. (2016). Keunikan Budaya dan Keindahan Alam sebagai Citra Destinasi Bali menurut Wisatawan Australia Lanjut Usia. Jurnal Kajian Bali: ISSN: 2088-4443, 06(April), 149–172. http://ojs.unud.ac.id/index.php/kajianbali/article/view/19904
Yuliara, I. M. (2016). Modul Regresi Linier Berganda. Universitas Udayana, 18.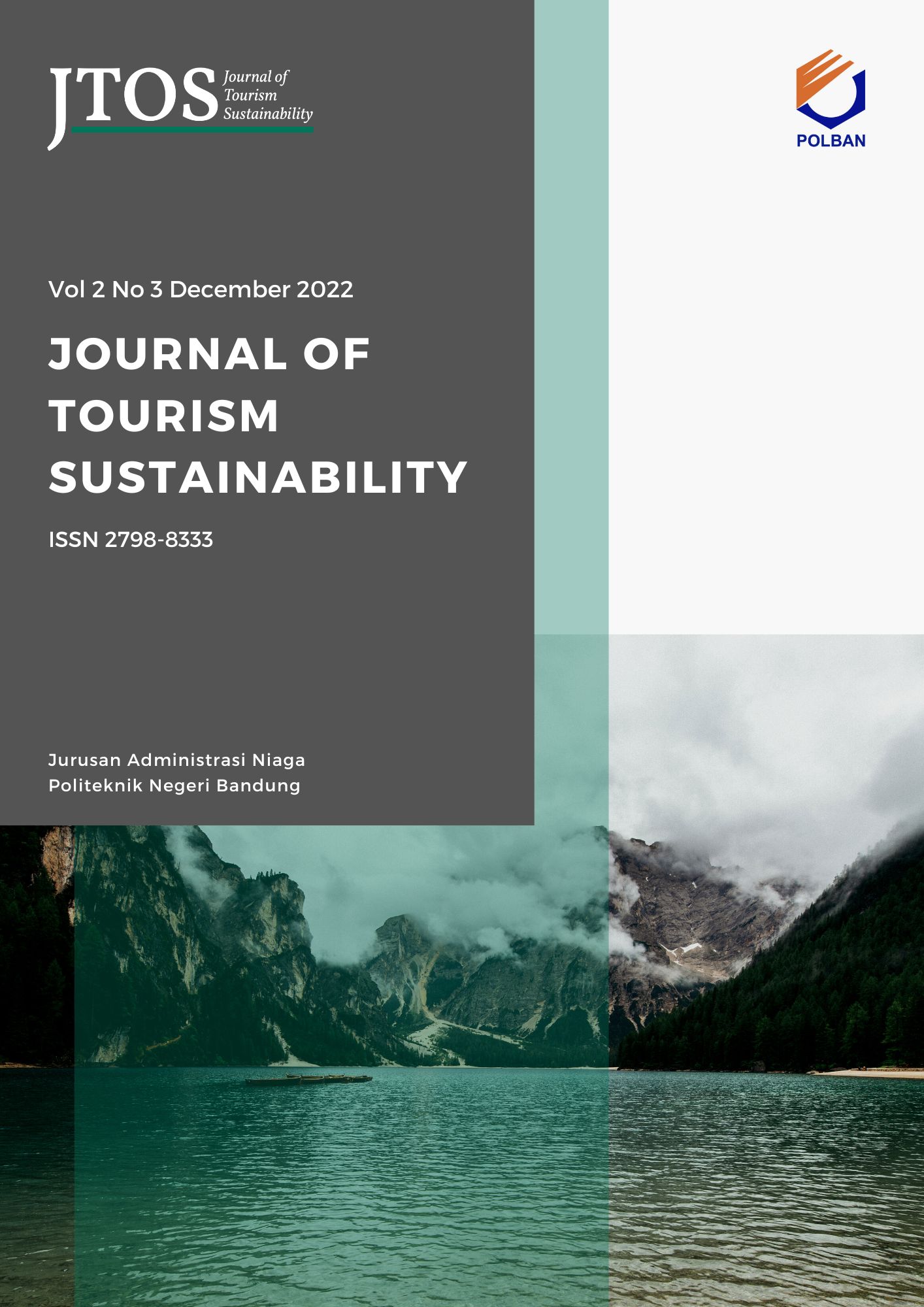 Downloads
License
Copyright (c) 2022 Puspa Savira, Rikantini Widiyanti, Any Ariani Noor
This work is licensed under a Creative Commons Attribution 4.0 International License.